ADFLOW Networks announced this week that it has provided Grand & Toy, the leading business solutions provider in Canada, with an in-store digital signage solution in (participating rebranded) retail locations.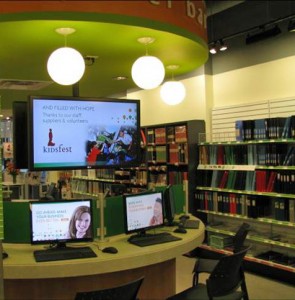 Paul McGowan, Director, Small Business – Marketing at the retailer told us "ADFLOW helped us with the implementation of our digital network. This partnership allowed us to quickly deploy our digital strategy without the anticipated pain points. We now communicate with our in-store customers in real-time with up-to-date content relevant to them. ADFLOW expertise and service helped us streamline our implementation."
LCD monitors were strategically placed in high-traffic areas throughout the business centres, where promotional and informative content was most likely to capture the attention of customers while they shop.
As part of their rebranding initiatives, Grand & Toy had several specific business objectives surrounding their digital signage deployment;
drive traffic in-store
inform and educate customers on their full range of product offerings
enhance the brand and customer shopping experience
Virtual training and presentations were other key elements to the overall strategy. Grand & Toy is eventually looking to utilize some of their screens for vendor-sponsored advertising.
Wayne Ruttle, vice president of sales, major accounts, ADFLOW Networks told us "We are pleased to be working with Grand & Toy and helping to address their business and marketing needs in their retail locations. Their digital signage network has proven to be a strong fit for the Grand & Toy brand and marketing strategies. Dynamic signage helps to create a stronger connection with their customers and supports the look and feel of the new store concept."