The Chicago Transit Authority (CTA) and Intersection are partnering to create a robust digital transit advertising network.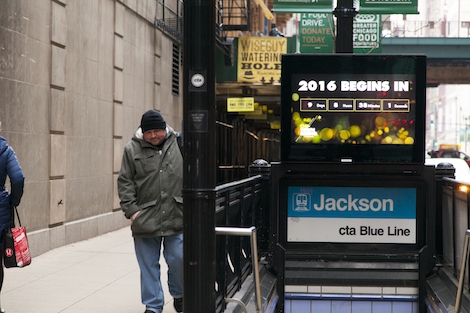 The announcement says that by leveraging new technologies and adding 130 new digital displays, the enhanced digital network will improve the experience for CTA customers, drive new revenue for the Agency, and unlock dynamic, context-driven digital opportunities for advertisers in one of the world's top media markets.
This expanded network will be deployed over the next two years and will generate additional advertising revenue for the CTA. The 130 new digital displays, funded by Intersection, will add to the existing 283 digital displays for a total of more than 400 displays within the CTA network. Sixty of the new displays will be located in stations throughout the system, with 70 new digital urban panels located on-street before customers enter the system. Intersection will also replace 159 existing digital platform displays.
Scott Goldsmith, President, Cities and Transit, Intersection told us "Intersection is committed to transforming the transit experience in cities around the world by bringing digital into the physical world, and we are thrilled to build on our partnership with the CTA to position Chicago at the forefront of transit innovation. With hundreds of intelligent new displays and more than one million customers each day, this new digital network creates a platform for advertisers, brands, and the CTA to deliver more tailored, engaging, and ultimately, more useful experiences to customers."
CTA customers will also benefit from responsive transit information on the new digital network, including real-time train arrival times, service updates, and emergency alerts, to make navigating the rail system more seamless and enjoyable. Digital urban panels located at street-level station entrances will also provide helpful information to customers before they enter the system.
With a strong history of helping cities transform public assets into platforms for innovation and revenue, Intersection currently manages municipal and transit media in cities such as Chicago, Dallas, Minneapolis, New Jersey, New York, Philadelphia, Pittsburgh, San Francisco, and Seattle.