'Churchie's Drive-Thru Car Insurance', created by WCRS, won the 2016 Creative Techniques award in Ocean Outdoor's annual digital creative competition that fosters innovation in digital out of home and it's great to see Ocean's vehicle recognition technology now (properly) powering Churchill's award-winning drive-thru diner…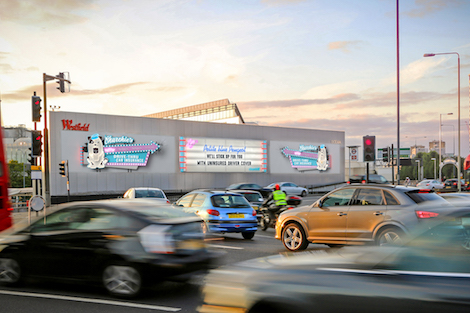 I think you will agree, this is very impressive creative; Churchie the iconic dog, is serving live, personalised messages to drivers – shown here on the large format Holland Park Roundabout tri-screen in West London, using a retro American drive-thru diner theme to promote Churchill's car insurance policy.
Churchie interacts directly with motorists by serving them super-targeted, playful creative which is triggered by the make, model and colour of stationary vehicles as they wait at the traffic lights opposite.
Selected cars that stop trigger one of more than 18,000 possible messages each day – everything from 'Morning red convertible! Keep the wind in your hair with our free roadside assistance' and 'Sporty turquoise Boxter, Keep those wheels hot. Repairs guaranteed for 5 years', to 'Morning Prius! You care for the planet; we care for you. 24/7 breakdown cover'.
Dino Burbidge, Director of Technology and Innovation, WCRS told us "Ocean's vehicle recognition technology allows us to seamlessly achieve the marketing holy grail of 'right location, right message, right time' while demanding nothing more from the audience than stopping at the lights. It's this ability to offer seamless yet hyper-targeted messaging that makes the Churchill Drive-Thru so effective."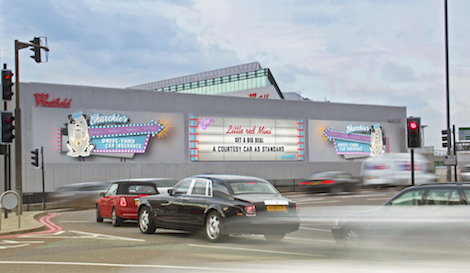 Ed Harland-Lang, Head of Marketing Communications, Churchill, said: "Cars are often a reflection of our personalities. The creation of Churchie's Drive-Thru allows us to make our car insurance truly personal too."
The campaign runs from April 5 to April 8.
Helen Beacham, Head of Marketing, Ocean Outdoor, said "Once again, WCRS understands what you can do with live out of home data. The use of graphics is excellent and they have translated the tone of the brand so well. It is also a really happy campaign and that's what makes it an Ocean competition winner."
In London on Tuesday May 9, 2017 at The DailyDOOH Media Summit WCRS's 14:00 Director of Innovation and Technology, Dino Burbidge will be joined on stage by Ocean Outdoor's Head of Ocean Labs Catherine Morgan to present 'How to Create Award Winning Content'. With WCRS continuing to create ground breaking content such as this (above) it will definitely be something, people serious about DOOH will not want to miss.
Creative and Production credits
Client: Churchill Insurance
Agency: WCRS
Executive Creative Director: Ross Neil
Creative Director: Orlando Warner
Creatives: Chris da Roza, Rosanna Walker
Agency Producer: Callum Procter
Account Handling: Emma Marsland, Carolina Gutierrez Vargas, Chris Moger, Katie Briefel
Planning: Alicia Gaworska
Agency Designer: Craig Townsend
Director of Technology: Dino Burbidge
Media Owner: Ocean Outdoor