Signagelive has started to recommend a dynamic social media solution to their network of 500 resellers and 1,700 networks around the globe – the Social Media Wall is now available through a partnership with Seenspire, and enables resellers and customers to create their own social media channels designed for displays.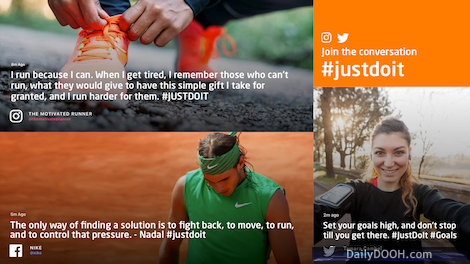 Jason Cremins, CEO of Signagelive told us "Getting a screen on the wall playing content is relatively easy. How to make that screen relevant to the viewer is a different story. Social media, if delivered correctly, can make an incredible impact through digital displays."
"From our point of view, we have a duty to recommend best of breed solutions for use with our platform and the media devices that we support and to our resellers and customers. What I love is the workflow, how easy it is to connect a social media account, choose a display design and publish ready for use with Signagelive."
Social Media Wall users can moderate their channels manually or set automated rules. The cloud-based system delivers the social content in HTML5 format and is compatible with Signagelive's many supported digital signage devices, including: Samsung's new Tizen-powered displays, Google Chrome OS devices, LG WebOS Displays, Philips Android SoC Displays, IAdea players and displays, and the latest BrightSign Series 3 digital signage players.
Seenspire Director Samuel Mekonen said "We're aligned on where and how we want to innovate. Our common goal of smart signage and our vision for the developing industry have brought us together."
Seenspire's social media wall solution is designed to give partners and end users a never-ending supply of user-generated content. Cost-effective subscription pricing, dynamic display designs and a user-friendly interface were just some of the many reasons that prompted Signagelive to recommend the Seenspire Social Media Wall.