Last week Displaylite launched a new 32" Smart Interactive Mirror. Called the Displaylite Reflect 32, the product enables the customer to experience a real mirror while also being able to see and interact with digital content displayed on the screen.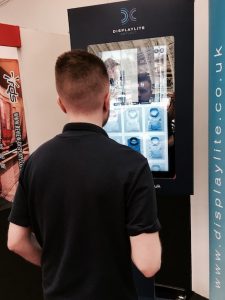 Features include a 32" Full HD display, 12 point PCAP touch screen, stereo speakers, camera and motion detector all housed in a robust chassis, suitable for mounting in portrait or landscape.
The Displaylite Reflect 32 mirror enables a more immersive digital experience in the physical store space.  When used as a mirror the screen content can be conveniently hidden.
Smart Mirrors can be used in instore fitting rooms, enabling the customer for example, to change the lighting in the fitting room, request a different size, browse through other items in the store, or interact with a sales assistant through the mirror. Other applications include: retail store, hotels, restrooms, and hair and beauty salons.
The Displaylite Reflect 32 is the first in the range, with 46" version due to be released by Displaylite in July 2017.
Simon Perry, Director, Displaylite told us "We are offering an 'out of the box Smart Interactive Mirror' in standard screen sizes available from stock, as we see this as a real growth area in Retail Digital Signage and Home Automation Markets."
Displaylite specialises in multi touch tables, touch screens and Flat Panel Displays. The company offers a wide range of products based on professional-grade displays from global brands such as Samsung and NEC and using high performance touch screen technologies from PQ Labs, 3M, LG Innotek, Zytronics and other industry-leaders. Products are available across Europe via a network of AV Resellers, System Integrators and Distribution partners.
Displaylite develops solutions for the most design conscious, high-end retail and corporate applications but also into areas such as air traffic control, digital signage, medical imaging and the arts and heritage sector. The company has a first class reputation for service and support and works closely with system integrators, POP display stand builders, event organisers, software developers and other partners to offer a full customisation and integration service.