Clear Channel Outdoor Americas (NYSE:CCO), a subsidiary of iHeartMedia, Inc. is showcasing the creativity, flexibility and real-time audience engagement potential of digital out-of-home advertising at this year's #CannesLion festival.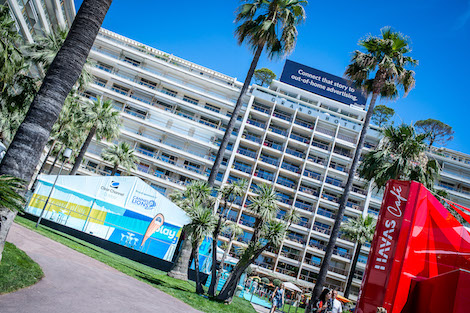 Clear Channel Outdoor Americas is once again leveraging one of the largest rooftop billboards and its small-format screens to host world class digital out-of-home activations. Following its successful debut in 2015, the giant digital billboard, dubbed 'Le Grand Screen', will stand above the iconic Le Grand Hotel and can been seen by audiences across the Cannes bay. Situated in the hotel gardens at ground level, the Playground – Clear Channel Outdoor Americas's experiential and hospitality space – will also feature DOOH campaigns from advertisers, creative agencies, media agencies, digital and production company partners, and play host to thought leadership panels throughout the week.
The DOOH showcase will feature dynamic activations from partners including: Biborg, Black Swan, Buzz Radar, Haymarket, Quividi and Kirk&Kirk Diageo, Ogilvy and Samsung, Stink Studios, Twitter and WCRS. Creative concepts include conditional-triggered content, mobile gamification, user-generated content, Artificial Intelligence, hyper-local contextual relevance, as well as data aggregation, integration and visualization.
As part of its commitment to championing creativity in OOH, CCOA is also proud to sponsor the Outdoor Lions category of the prestigious Cannes Lions Awards for the eighth consecutive year. This recognizes the most creative OOH campaigns from around the world over the past twelve months. Using the immediacy of digital OOH to showcase the winners, CCOA will present the winning campaigns on Le Grand Screen as they're announced.
Scott Wells, CEO, Clear Channel Outdoor Americas told us "OOH has undergone a radical evolution in how brands are not just planning and measuring the effectiveness of the medium, but also in terms of the creative activations we are executing for brands where digital flexibility, social media and mobile data intersect. We look forward to showcasing this immersive medium's potential at Cannes and sharing with advertisers how they, too, can leverage these capabilities to engage with their consumers in even more meaningful ways."
Clear Channel International and Clear Channel Outdoor Americas will participate in the following events:
Thought-leadership stream: Taking place at the Playground – an interactive OOH experiential and hospitality space – Clear Channel Outdoor Americas will host three thought leadership sessions, during which a panel of experts from across the advertising industry will explore a series of topics affecting the out of home industry:
Tuesday, June 20 – 11:00-12:00: OOH: Bridging the online and offline worlds

In this session, the panel will look at the powerful audience effect that can be created through the collision of real world and digital experiences. The discussion will also explore how brands can bridge OOH, mobile and social, to make the consumer journey more active. Confirmed participants: Kinetic; Maxus Global; Clear Channel International

Wednesday, June 21 – 11:00-12:00: Are you creative enough for DOOH?

In what will be a lively discussion, the session will focus on creativity and will explore the new opportunities DOOH provides for engaging audiences. The discussion will also look at how creative agencies are embracing DOOH – including real world examples – the role of context and technology in the creative process; and co-creation between brand, creative, media agency and owner. Confirmed participants: Grand Visual; Talon; WCRS; Clear Channel International

Thursday, June 22 – 11:00-12:00: How data is driving the evolution of OOH

This session will dive into the ways data has begun to completely change how the OOH industry provides value to brands. While the approach may vary, the key drivers are the same: focus on audience, proof of effectiveness, deeper insights, timely decision-making and laying the foundation for programmatic. Confirmed participants so far: 360i; Cuebiq; MasterCard; MediaPost, Clear Channel Outdoor Americas
Clear Channel Outdoor Americas has also created the Playground, an experiential OOH exhibition and hospitality space in the gardens of Le Grand Hotel situated in the centre of La Croisette. Agencies and advertisers will experience the possibilities of OOH via a selection of digital totems which will showcase inspiring examples of Outdoor creativity and innovation from leading advertisers from around the globe. It's Open: Monday, June 19 – Thursday, June 22, Time: 8am – 8pm. Venue: Gardens of Le Grand Hotel
Clear Channel Outdoor Americas will also participate alongside Clear Channel Outdoor International in the following DOOH showcase partner activations: –
Kirk&Kirk, Bastard.London & Quividi: Eye Care What You Wear

Quividi – global leaders in DOOH audience and attention analytics – and Bastard.London – creators of contextual photographic experiences – have teamed up with luxury eyewear brand, Kirk&Kirk, to deliver personalised, contextually triggered content to digital screens in the Clear Channel Playground. The screen will invite an individual toward the screen and – by collecting information around three data points, through a video sensor – 1. Gender recognition 2. Colour recognition 3. Does the user wear glasses – will display a personalized piece of eyewear to match the style of the person in front of the display. For example, if a (1) woman with a (2) red shirt (3) not wearing glasses is in front of the screen, then the female model and red pair of sunglasses is displayed, if it's a (1) man with a (2) blue shirt, (3) wearing glasses then the male model and blue pair of glasses is displayed.

Quividi: SnapDOOH: You're Cannes Lions worthy, now everybody else knows!

Quividi – global leaders in DOOH audience and attention analytics – will be inviting people to the Playground to have their picture taken in front of a digital OOH screen. The sensor taking the picture will analyze the person in front of it and dynamically award a humorous accolade depending on what's on the screen. For instance, a man with a stylish beard may be awarded the "Top Hipster Award". The best looks and personalised displays will make it onto Le Grand Screen, along with a quirky accolade.

Stink Studios: #NotInCannes

Stink Studios is giving a voice to the poor unfortunates left behind. The ones toiling away while the chosen few drink rosé in the sun. Using the hashtag #NotInCannes, those back home can send personalized messages to colleagues that will post on the board in real-time. Do your worst!