Adrian J Cotterill, Editor-in-Chief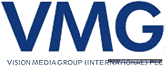 We are excited (for VMG and for the industry) on their Clear Channel announcement. We have the calculators out in the office and are desperately trying to work out (okay we are trying to estimate / best guess / extrapolate) what the sterling figure for the Clear Channel deal will mean for VMG.
It may take us a while to calculate the number of display faces involved, the likely average selling price and the selling period (two weeks if it is traditional outdoor) etc. and to double check but we hope to be able to announce a figure within 24 hours.