Gail Chiasson, North American Editor
Seattle,Washington-based digital signage company .advancedMethod has added an emergency broadcast system to its express digital signage solution to make individuals aware of urgent situations such as national emergencies, intruders, fires, hurricanes, and evacuation instructions.
The company says its emergency broadcast system is well suited for high traffic areas such as schools and universities, hospitals and healthcare facilities, office buildings, shopping malls, and sports stadiums.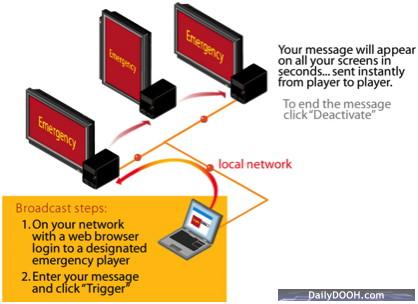 With the emergency system, users can securely log-in to express provided they possess a username and password and can trigger predetermined alerts or create them on the spot. Once an emergency message is activated on one express unit, all players and screens on the same local network are then triggered, saving precious time and ensuring that one's message is dispatched immediately. When the emergency is over, the message can be removed by simply clicking 'deactivate' and express then immediately resumes playing regularly scheduled content.
"We are committed to adding new features based on the feedback and requests we receive from our customers," says Devin Imamura, director of product development at .advancedMethod. "Our emergency broadcast system is a perfect complement to express and is available to all express users at no extra charge."

The express emergency broadcast system comes with an emergency button upon request that, when pushed, will take one directly to the express emergency page, further speeding up the trigger process.
.advancedMethod's express includes the basic player and software needed to create the user's content right out of the box, plus industry-related templates, and 'live' news feeds. express is designed to dramatically simplify the deployment of digital signage, whether that means to a single sign or a huge network