Sansi North America (SNA) Displays recently completed this installation, a series of interior LED video displays for the US headquarters of Nike, the world's largest athletic apparel brand.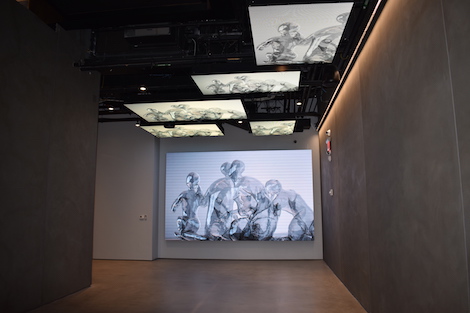 The innovative project features 13 LED "clouds," state-of-the-art LED displays suspended from the headquarters' lobby ceiling. The S|Video™ interior displays range in size from 22 square feet to nearly 150 square feet, resulting in a combined 620 square feet of digital displays and more than four million pixels. The clouds work in tandem, seamlessly creating a single creative digital canvas and a unique experience for employees and visitors.
John Pisciotta, SNA Displays project manager told us "It's exciting to provide tight-pitch interior displays in a corporate setting like this, because the tolerances are reduced dramatically. Each frame and panel needed to be installed and commissioned with a sharp eye for detail. We had to be perfect."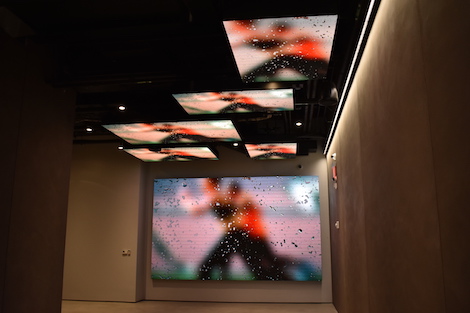 SNA Displays worked closely with several outside agencies to ensure that the safety parameters and precision required for the installation of each unit were met, including Ryan Biggs Clark Davis, the structural engineering firm that provided design services for hanging the displays; AMA Sign & Electric Company, which installed the displays; Show + Tell, which provided control equipment expertise; and Coherent Design, the consultant hired by the client to spearhead and manage the project.
"Because of the nature of the project, we needed to design and coordinate a structure that worked with many trades—HVAC, lighting, A/V speakers, and sprinklers—to ensure that the LED displays were properly placed. Every design and engineering decision throughout the process required extreme precision."
Sansi is one of the largest LED manufacturers in the world, with over 25 years of LED experience and more than 245 patents across multiple LED technology markets. SNA Displays is on the cutting edge of emerging LED technologies and custom systems integration and has fabricated, managed, implemented and installed some of the largest and most recognizable LED spectaculars in the digital display industry.