Adrian J Cotterill, Editor-in-Chief
Primesight has added Virgin Holidays to the list of brands advertising on the InLinks across London. We're told that the launch of the new, premium Civiq Smartscape units provided an exciting opportunity to support Virgin Holidays' up-market Cruise offering.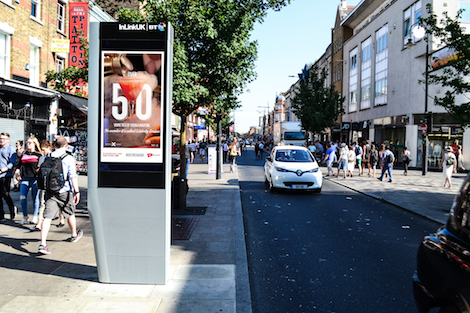 Sophie Manning, Specialist Business Marketing Manager, Virgin Holidays was quoted as saying "We see a really clear opportunity with the InLinks and we're really pleased to be able to utilise them for our latest campaign."
The first stage of the campaign, which recently went live, will drive awareness and consideration of Virgin Holiday Cruises amongst the target ABC1 audience throughout London.
The holiday company joins a large selection of industry leading brands advertising on the new InLinks, including:
Bulmers – tapping into key summer drinking times of the week
Deliveroo – contextually relevant copy for different times of day targeting specific snack moments
O2 – multiple messaging across its portfolio, amplified by geo-targeted mobile
Warner Brothers – four consecutive bursts each promoting a different summer release
Debenhams – driving in-store activation through proximity to retail hubs
The InLinks are the result of a partnership between BT and a joint venture made up of Primesight and Alphabet-backed Intersection. Currently installed in London, they occupy key, high footfall locations including Camden High Street, Finchley Road and High Holborn, with installation continuing over the coming months as the digital expansion continues across the UK. InLinks provide users free ultrafast wi-fi and a range of wider free digital services including calls to UK landlines and mobiles.
Naren Patel, CEO at Primesight told us "It's a credit to our team that so many market leading brands have chosen to advertise on the InLinks. There is a real value exchange there and the commercial reaction to the launch earlier in the summer has been really strong, with wide ranging support across the market."
Flo Horwich, Client Manager, Talon Outdoor said: "The InLinks provide the opportunity to aesthetically showcase the Virgin Holidays Cruise campaign on a format with the style and premium quality associated with the brand"
The campaign was brokered by Talon.
Primesight Ltd is one of the leading out-of-home media owners in the UK with 150 staff. The company manages over 20,000 advertising sites, with recent investment focused on the development of 'Network' – digital billboard locations in cities throughout the country. Primesight have a mission to 'Make an Impression' operating the broadest reaching OOH advertising portfolio in the UK encompassing roadside, transport and cinema environments. Their partners include BT, Network Rail, TfL, Manchester Airport Group, DCM and Co-op. Primesight were awarded a 2-star status in the 2017 Best Companies awards, and are current holders of Campaign Outdoor Sales Team of the Year in 2015 and 2016 and Media Week Media Brand of the Year 2016.