Adrian J Cotterill, Editor-in-Chief
Intel's biggest marketing campaign in nearly 3 years is rolling along and the pictures and stories are starting to come in.
Here we see Inwindow Outdoor running the campaign as part of Intel's "You on Tomorrow" initiative – as you can see from the picture, viewers of the street-level displays are invited to text their vision of future, which is then broadcast in real-time on the large-scale digital screen incorporated into the Storescape™ in their city (as well as being broadcast to other Storescapes throughout the country).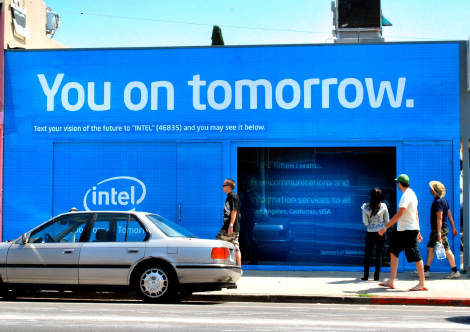 The US campaign runs in multiple markets including New York, Los Angeles, San Francisco, Chicago, Miami and Boston – the New York location also displays a 3D LCD screen.
Steve Birnhak, CEO and founder of Inwindow Outdoor told us "This is the first time storefront advertisements have been networked in this manner and this is the second time in recent weeks that we have deployed 3D LCD technology. We're always looking for new ways to engage consumers using our medium and the integration of user-generated content makes this a particularly powerful and compelling campaign. We are extremely proud to be working with a progressive, blue chip brand like Intel on this project."
For the day of the launch, SMS feeds being digitally projected on the storefronts were simultaneously displayed on the Reuters' billboards in Times Square.