Gail Chiasson, North American Editor
This month we welcome Karine Moses, President, Astral at Bell Media and Vice-President, Bell Media Sales Québec (TV/Radio), Montreal.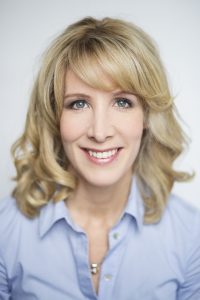 You have held nine different positions since joining Bell in 1997, but seem to have had no direct experience in the world of Out-of-Home and Digital Out-of-Home. Tell us about your experience and why you think you were given the role of heading Astral within the Bell family?

I have been part of the of the Bell family for over 20 years, holding various executive position across the company, mainly in operation and finance.

As President, Bell Technical Solutions, I grew and optimized the company to support Bell Fibre TV and Internet growth in a short timeframe. I have strong transformational skills and like to lead growth and change. Astral has had tremendous growth in the past year and will need to optimize and drive operational efficiency while maximizing revenues, and I have the experience to move this team forward.

Which of your previous positions was the most beneficial relating to your work with Astral? How does it relate?

Collectively my previous experience has given me all the tools to get the best out of this fantastic portfolio of assets. Those years of experience have given me extensive working knowledge of potential risks and opportunities that lie ahead for Astral.

I also have significant experience managing large teams and fostering a positive environment and experiences for clients, and that's my role at Astral.

Were you recommended for your position by your predecessor Luc Quétel? How did he help you in your transition into the world of OOH and DOOH?

I was brought in by the President of Bell Media to advance the business, build on Luc's legacy, and to expand Astral's role in Canadian Out-of-Home advertising by connecting our clients to consumers. See our CEO Spotlight: Luc Quétel, Astral Out of Home, Bell Media, Montréal back in October 2015, Ed.

Bell is a very powerful company in Canada, and Astral had run very independently with a lot of growth and innovation. I was wondering if you were brought in to pull Astral more under "Ma Bell"'s umbrella, as it were, rather than allowing it to flourish as Astral?

Astral continues to grow and innovate as the leading OOH brand in Canada. Although it is managed independently, Astral flourishes even more with the benefit and support of being part of a larger company like Bell. Our mission is to be the number one OOH solutions provider in Canada while leveraging the power and strength of Bell Media to drive results for our advertisers.

You also hold the position of vice-president media sales for Québec. How do you divide your time? Can you give us an example of your typical day?

It's busy! But I'm lucky – I am supported by a seasoned and talented team with experience in all facets of media. The two roles have really given me the opportunity to develop a better understanding of the media landscape and how to leverage our multiplatform capabilities as well as understanding the customer.

There's no set division of time between my roles with Astral and Sales – I focus my attention as needed on each portfolio. I think it works out to be a fairly even split because the roles are so inter-connected.

Prior to your appointment, Astral had been experiencing a lot of growth and had developed several new digital signage products. What has been its growth since then? What new products have been developed and launched?

We were very busy in 2017 and Astral continues to flourish. We acquired Cieslok Media and have a very aggressive expansion plan to continue to grow and evolve on the technology front in the next year.

We recently launched a new programmatic self-serve platform for Out-of-Home campaigns; introduced two new large-format digital superboards in close proximity to the country's largest airport; introduced Canada's longest horizontal full motion digital display at Yonge-Dundas Square in Toronto; deployed of a network of 50 new, digital backlit faces in the Montréal metro; and unveiled a new Momentum service that enables the production of dynamic data campaigns that can be linked to current events, including things like sports, weather, and traffic.

Has Astral expanded its physical territory in the past year-and-a-half? Where and how? Has any of that expansion been related to buys of other companies?

In July, 2016, Astral announced that it became the exclusive OOH advertising operator at Toronto Pearson International Airport. I mentioned them above, also, but in partnership with Toronto Pearson International Airport, we introduced two new large-format digital superboards in close proximity to the country's largest airport. The new structures are designed to resemble the tail of an aircraft and provide information about the airport while offering an advertising opportunity reaching millions of commuters and passengers annually.

Also earlier mentioned, the Cieslok Media acquisition last year is another big part of our expansion. It was strategically significant for us as it really grew and strengthened our digital presence in the industry, especially in Toronto, but also in key cities across Canada, including Montréal, Vancouver, Edmonton and Calgary.

One of the big launches of the past year was the unveiling of our new digital wrap at Yonge-Dundas Square in Toronto. It's the longest horizontal full motion digital display in Canada and is a major addition to Astral's impressive portfolio.

Also in 2017, we acquired LED Outdoor in the Winnipeg area, bringing in more inventory to a region where Astral had earlier not been very active. Astral is always looking at increasing our footprint across Canada in a leading way.

One of the biggest challenges for Astral in the past was finding the right people to expand its team. Has that been resolved? How many people do you actually manage? Is there a lot of cross-over between Astral's sales and Bell sales group?

We have a great and diverse team which has grown in the last year and I am very proud of all the work they do. They are strong, talented, and dedicated people that are seasoned in OOH, sales, mobile and technology, and completely devoted to Astral.

Is Astral's R&D still handled mainly out of Montréal or has it been absorbed into Bell's own R&D department? Please explain. Can you tell us what we may see in terms of new products coming down the pipe this year?

Astral has grown the R&D department located in both Montréal and Toronto. We leverage the strength and power of Bell when it comes to technology and business intelligence.

I believe you have been working with Ayuda Systems. How do you use Ayuda's solutions? Have you added any of its other offerings since signing initially with Ayuda? Any plans in that way?

Ayuda is an important partner for us and we are always exploring better ways to deliver our campaigns and improve our systems and platform. We currently use Ayuda's player to broadcast advertiser campaigns on our digital billboards.

We also have an exclusive self-serve platform, powered by Hivestack (Ayuda) that's fueled with real-time mobile location data. The platform includes inventory across all major Canadian cities, real-time reporting, and attribution measurement capabilities. Astral was the first to roll out this innovative platform to advertisers and it's a major step towards truly integrated, audience-centric advertising that generates measurable results for brands.

On which of your products do you carry original content in addition to advertising, if any? Who develops it for you? With Starz now coming to Canada, do you expect to be able to marry some content from it to your DOOH products?

Bell Media is a content company. As such, you will see some of our content in Canadian airports, and in the Montréal Metro through Metro Vision, as we deliver news and entertainment to travellers waiting for the subway train or a flight.

Overall, how many advertising faces does Astral now have for each product group? What percentage of your OOH is DOOH? How does that compare to when you took over?

Astral has more than 30,100 faces across Canada. We have five product lines: Outdoor, Digital, Airport, Transit, and Street Furniture, which have grown by 7% in 2017. Overall, 10% of our faces are digital and we have a five-year growth plan to convert a number of static faces to increase the number of digital faces.

Do you still run a creative's awards contest with the winners send to Cannes?

We are launching the 9th edition of Carte Blanche in March, 2018, and each year the contest has generated more and more enthusiasm. Last year we had over 272 entries from 75 different agencies from coast to coast and they're constantly pushing boundaries of creativity and technology. It's a really exciting competition for us.

This year, the creative will live on the digital large format board. Watch for the press release announcing the launch of the competition in March!

Astral wasn't into programmatic buying. Has it now started to use it, and, if so, tell us how? What are your thoughts on its use?

I touched on this earlier when mentioning Hivestack. Astral launched a unique, self-serve programmatic offering in December, 2017, which is now available to advertisers and agency trading desks. Powered by Hivestack and fueled with real-time mobile location data, the platform gives clients access to audience targeting previously only attainable online.

Astral's programmatic solution is being released in three phases, at the completion of which premium digital inventory will be accessible via programmatic guaranteed, preferred deals, or closed auction. Through the self-serve platform, clients can monitor budget allocation across the network in real time and update creative assets at their discretion.

Have you added any new measurement products for your DOOH products or are you still relying only on the Out-of-Home Marketing Association of Canada figures? Are advertisers not demanding specific figures for targeting audiences and other details for each of your products?

We are leveraging exclusive geo-mobile location data to define audience segments and help us curate our proposals and calculate the ROI, in addition to leveraging COMB measurements.

Are you personally active in OMAC, Digital Place-based Advertising Association, Digital Signage Federation, Outdoor Advertising Association of America or any other organization involved in DOOH? Why or why not?

It's an exciting time for the OOH industry and truly a pivotal point as our governance board for Canada is rebranding to COMMB – Canadian Outdoor Marketing and Measurement Bureau, and focused on a three-year plan of re-inventing the way we measure OOH today. Being part of these associations is very important for the health of the industry and ensures that we are following the technology and innovative trends.

I am on the executive committee of the new association COMMB, and Astral is an active member of DPAA and OAAA.

Tell us how you see Astral by the year 2020. Can you foresee its expansion beyond Canada's borders?

Digital Innovation is a key trend in the OOH space. We're certainly looking at keeping our leading position in digital and focusing on premium sites and dynamic new formats.

Astral will be the number one OOH solution provider in Canada fueling brand possibilities through audience segments, predicated on location data, city data and mobile data.

Please tell us how you see the DOOH industry in Canada in general over the next few years. Do you foresee more or less participants? Foreign ownership? Much growth? More acceptance by advertisers?

I can't imagine there would be room for more large players in addition to what we already have in Canada with Astral, Pattison, Outfront, and Branded Cities.

Digital OOH assets will certainly grow in Canada as more advertisers find ways to drive attribution and results for their campaigns and, if we can leverage real time location data to prove ROI, then more and more advertisers will be willing to purchase digital. As technology improves the way we transact business in OOH, we will be able to compete in the digital ecosystem which could help our overall share of dollars in Canada.

I'm expecting conversions from static to digital which will spur the growth of digital versus growth in the addition of new digital structures in key markets, as it's getting quite saturated.