Adrian J Cotterill, Editor-in-Chief
Primesight today officially unveils The Luxury Edit from InLink, with thirteen state-of-the-art digital screens located in prime retail areas in London's most affluent and desirable borough.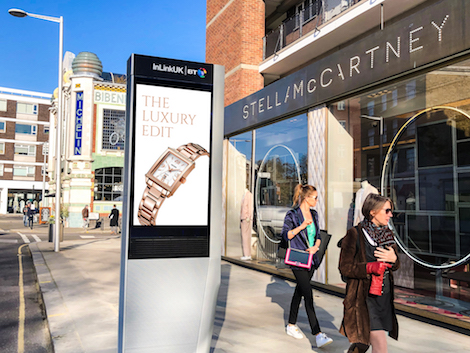 James Power, Head of Sales for InLink at Primesight, told us "The launch of The Luxury Edit is an incredibly exciting milestone in the InLink story. With this exclusive network, location and audience is everything and we have selected each of these thirteen screens to provide the best possible contact with consumers in London's premier shopping district. We are certain the architecturally designed, sleek contours of the InLink units will provide the perfect digital canvas for luxury, premium brands looking to engage the most desirable consumers in the UK."
InLink now has over 850 screens in prime city centre locations across the UK – including London, Manchester, Glasgow, Leeds, Birmingham, Cardiff, Belfast, Newcastle and Aberdeen. With the launch of The Luxury Edit, thirteen of these screens in Kensington & Chelsea have been hand-picked to be the exclusive domain of luxury and premium brands.
In creating a unique, deluxe environment for top-end advertisers, The Luxury Edit will allow these brands to reach many of the capital's most affluent residents and visitors. This dedicated channel will carry only three brands in an exclusive loop at any one time, accounting for 90% of screen time. The remaining 10% of screen time is used to curate bespoke content for those who live, visit and work in the borough.
The Luxury Edit from InLink will allow luxury brands to reach high-end shoppers on some of the world's most desirable shopping streets, including Knightsbridge, Sloane Street, Sloane Square, Brompton Road, King's Road and Kensington High Street. Launch advertisers include Rolex, De'Longhi and the Kensington Spa & Health Club from Virgin Active.