Gail Chiasson, North American Editor
Composite Street Lights, a new concept in street lighting being introduced by Chicago-based Duratel, involves a generous hollow weatherproof storage area inside maintenance-free storage poles where WiFi antennas can be mounted and protected out of sight.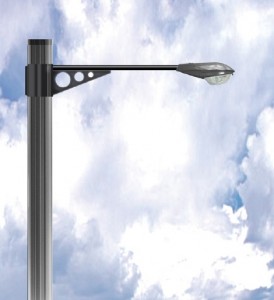 With Duratel Composite Street Light Poles, property planners can get double duty out of any free-standing street light fixture and build WiFi coverage capabilities into new neighborhoods, shop/office centers, stadiums, hotels/resorts, municipal parks or any projects along the public way. The caps of the poles comes off for installation of the WiFi antennae.
In fact, the poles can also support solar-powered digital screens and traffic cams, and can be custom-built with cut-outs already done for the latter.
Duratel Street Light Poles are made from a composite material that is virtually transparent to WiFi and cellular frequencies. The poles are lightweight, easy to install, maintenance free for 80+ years, withstand hurricane force winds up to 150 MPH and will never rot or corrode, even in the harshest of environments.
Duratel Street Light Poles are available in a variety of standard sizes and colors, and can be custom coloured and fabricated for architectural themes for specific neighbourhoods, for example. Crossbar sign fixtures are optional.
While Duratel sells the poles (round or square), it is up to the municipalities to arrange the wi-fi antennas, since each municipality and state has its own bylaws on where it wants wi-fi capability. The poles can also be leased out to wi-fi or telecommunications groups who want to install wi-fi coverage in areas such as shopping malls or other public places.
The first installations of about 20 poles are going up along South Lakeshore Drive in Chicago, and at the busy corner of Wacker Drive and Michigan Ave., as part of Mayor Richard Daley's drive to make Chicago a greener city and get rid aging and rusting structures street structures. (The fact that Chicago is making a run to host the 2016 Summer Olympic Games also plays a role.)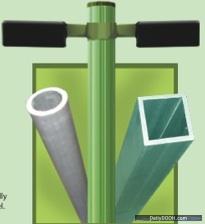 "Duratel has been in business for five years, but the first three years were spent on intellectual property, on design, development and testing," says Don Williams, Duratel president. "The street lighting poles are our second product line. They are made out of the same fibre-reinforced polymer composite as our utility poles that are already being used in Montana, Oregon, Utah, Nevada, and other states. The hexagonal utility poles caught on quickly because they don't rot like wood, nor rust like steel. And they don't have to be chemically treated. Like our new lighting poles geared for wi-fi, they're strong, cost-effective and maintenance free."
Duratel is currently marketing its street lighting and utility poles in the U.S. and Canada, but is already getting interest from South America and expects to sell globally when the product becomes known.