Adrian J Cotterill, Editor-in-Chief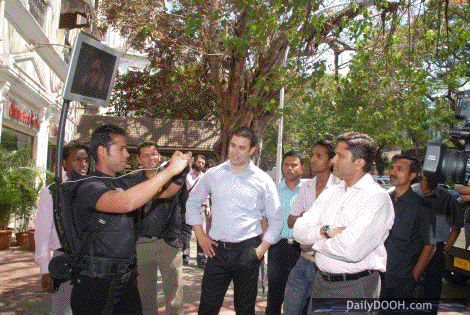 Here's the press release from Pixman's Indian press conference we told you about last week.
PIXMAN NOMADIC MEDIA – THE PIONEERS IN THE CONCEPT OF NOMADIC MARKETING ENTERS INDIA

OOH MEDIA BECOMES INTERACTIVE FOR THE FIRST TIME EVER IN INDIA

Mumbai, March 20th, 2008 –

The Canada based Pixman Nomadic Media Inc. (TSXV: "PMN"), having presence in 30 countries worldwide, announced the implementation of its value-added reseller (VAR) business model in India, one of the most promising emerging markets in the world today. PMN (the pioneers in the concept of Nomadic Marketing) has entered into an exclusive agreement with Mass Media Makers (MMM), an advertising and marketing agency based in Mumbai, who will offer Pixman services throughout the country. MMM has an exclusivity contract with Pixman for India.

Pixman™ is a leading-edge supplier of nomadic media and promotional systems that uses network-based, wireless (Wi-Fi or PC Air Card), gaming platforms and video players to get customers to interact with your brand via multiple nomadic touch points. Pixman™ Nomadic Media is an innovative, experiential and ubiquitous street marketing media with a methodology crafted to engage and interact face-to-face with consumers. It is based on a "human transaction" approach to reach and expand the brand to consumer experience.

"This agreement is an important move to expand our global network and connect Pixman™ communities," says Philippe Gribeauval, President of Pixman Nomadic Media. "As India is a very dynamic market, we anticipate a large demand from advertisers and expect the need for Pixman™ units to significantly increase over the coming months. PMN has served some of the top line global brands including Chanel, Vodafone, MTV, Adidas, Coca-Cola, T Mobile, Formula 1 among others. We wish to cater to the top brands in India too."

Says Cristina Romero, VP – Sales & Marketing, "With the explosion of India's purchasing power, major brands in industry sectors such as telecommunications, packaged goods and automobiles are now looking for new ideas to create relationships with consumers and set themselves apart from competitors. They are investing significantly in out-of-home media due to the lower penetration and effectiveness of traditional mass media. Based on its patented mobile technological platform, the timing for Pixman™ solutions to enter the Indian market is excellent. Because Pixman™ systems are worn by local brand ambassadors, they will offer advertisers the ability to specifically target consumers and overcome the challenge of India's large diversity of languages, religions and income levels."

"We are confident that Pixman™ will be a success here," says Pravin Chudasama, President and Founder of Mass Media Makers. "Many major brands we are talking to are very interested and contract discussions are well underway. Pixman™ guerilla marketing teams will comprise of professionally trained, multilingual, branded messengers wearing the only patented above shoulder multimedia portable display system with "feet on the street" scripts in hand. They will be strategically positioned in high traffic areas such as, event venues, shopping malls, concert halls, amusement parks, festival venues and sponsorship events and programmed to achieve a pre-planned outcome. MMM has constantly contributed new media's to OOH industry and has added value to Pixman's effort of initiating its India operations," he adds.

About Pixman Nomadic Media Inc.

Pixman Nomadic Media Inc. is a Montreal-based tactical marketing company. The foundation of Pixman's business, through its wholly-owned subsidiaries Pixman Corporation, Pixman Europe S.L. and Pixman U.S.A. Inc., is the Pixman® patented wearable multimedia system worn by brand ambassadors. Pixman creates innovative technology-based marketing experiences that bring new ways to promote brands, products and services. Pixman provides turnkey media services throughout North America and Europe, and licenses its products to partners active in over 25 countries around the world. Pixman is listed on the TSX Venture Stock Exchange (www.tsx.com) under the symbol "PMN".

About Mass Media Makers:

Since its foundation in 2000, Mass Media Makers specializes in launching new outdoor advertising medias. They have successfully delivered campaigns for clients such as Coca-Cola, Tata Motors, Unilever, Oglivy Landscape,HDFC, LIC, Zee Network, Bharti Airtel, Castrol, Yahoo, Birla Sun Life, Bank of India and have been preparing the launch of Pixman media systems for the past year.