Adrian J Cotterill, Editor-in-Chief
BT has selected Global as outdoor advertising partner for its street furniture network in the UK, which includes traditional payphones and its Gigabit Wi-Fi enabled digital street units.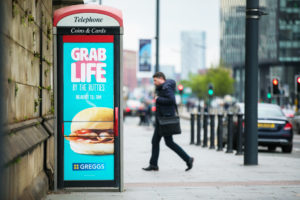 The three-year deal covers print and digital advertising across the network which includes 17,500 traditional 'KX' kiosks for print advertising; 500 'BT6' payphones and 500 digital street units (formerly known as InLinkUK – yes, this is the business that Global put into administration earlier this year, and BT then acquired).
We are told that the agreement will also enable BT to work with Global on any new digital street products BT installs in UK towns and cities in the future.
From April, BT's digital street units will form a significant part of Global's inventory in DAX, their new digital advertising exchange. DAX is built on proprietary technology from Global and gives advertisers the ability to buy outdoor space programmatically and at scale, with the ease they already have with other media. The digital advertising carried across BT's network of 500 digital street units will be Global's leading high-quality roadside proposition. As a result of the new deal with BT, Global will also be introducing news and content from LBC to the unit's screens, delivering even more value to the local communities served by the units.
Katherine Ainley, MD of Ventures, BT, told us "Today's deal with Global to support advertising sales across our street network is another milestone in the evolution of our future street strategy. Global has extensive experience of working across traditional and digital media for our existing estate, and have demonstrated a compelling vision for how we can work together in the future to innovate and grow our digital street presence."
The revenues generated by the digital advertising on the units – which have so far been rolled out across 23 towns and cities – enable the public to access a wide-range of services for free, providing a wide range of economic, social and technology benefits to communities and local councils up and down the country. This includes connecting local residents, businesses and tourists to free ultrafast Wi-Fi, access to free phone calls, mobile device charging, and ensuring that people can contact the emergency services or charity helplines in times of need. Local councils will continue to have access to a proportion of the units' advertising screen time for free to utilise for their own community news.