Lancôme has teamed up with Kinetic Worldwide and Essence to unveil a spectacular out of home special build celebrating the new La Vie Est Belle Intensément fragrance across the Mother's Day period.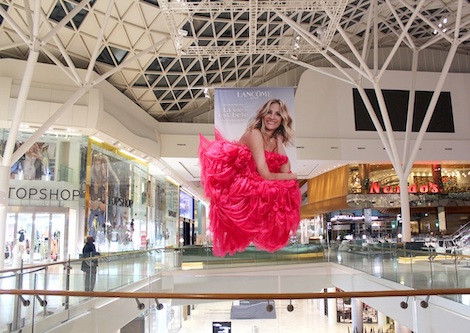 Giovanni Valentini, General Manager Lancôme UK&I said "To bring our latest fragrance launch, La Vie Est Belle Intensément, to life this Mother's Day, we are delighted to present this stunning installation. We hope this sensorial campaign will capture the imagination of Westfield shoppers, who will be able to sample our addictive new Eau De Parfum over the weekends of the 14th-15th and 21st-22nd March".
Starring Hollywood legend Julia Roberts, the eye-catching campaign will dominate two print banners at Westfield London between 12th -22nd March – To deliver an even greater impact, one of the billboards will incorporate an elegant special-build element which will see Julia Robert's dress cascade from the banner.
The installation will be viewable from inside Westfield, with the banners hanging directly above the shopping centre's Atrium. The spectacle embodies the style and spirit of one of the world's largest French beauty brands, bringing an explosion of Lancôme's signature pink pantone to Westfield.
Sam O'Connell, Head of Projects and Operations at Kinetic Active told us "We're thrilled to have worked with Lancôme to bring this fantastic campaign to the heart of Westfield London. We believe that the future of marketing is increasingly public, and this campaign perfectly embodies that. It's a wonderful example of a simple and elegant creative execution in the perfect space to raise awareness and inspire engaged audiences. The addition of a special build element ensures the campaign not only looks beautiful; it means it's completely unmissable. C'est Magnifique."
With 1.5 million shoppers set to hit Westfield London in the run up to Mother's Day, the unmissable campaign is ideally placed to raise awareness of the new Intensément edition of the fragrance, as well as providing inspiration to the 1.2M visitors searching for the perfect Mother's Day gift and are yet to finalise their purchasing decision.
The campaign builds on last year's La Vie est Belle tree at King's Cross St Pancras with Lancôme once again transforming a busy London urban space with a creative and glamorous out of home special build. The Westfield campaign combines a fresh execution designed specifically for a busy retail environment and stunning creative, intended to emphasise the intense aroma that the new Intensément edition of La Vie est Belle delivers.