Russ Curry, Ministry of New Media
Today's webinar recommendation is from the OAAA Lunch Break series and is entitled 'Marketplace Update + COVID-19 Business Guidance'.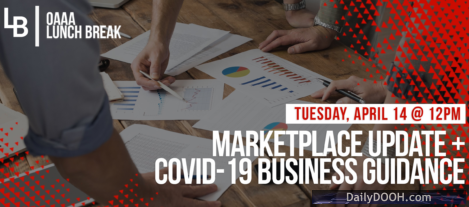 The OAAA will be considering the evolving media and tech markets, as well as the overall capital markets. Industry expert Mark Boidman, Managing Director and Head of Media & Tech Services at PJ SOLOMON, will share some key takeaways and how he is currently viewing the marketplace stemming from the current #COVID19 pandemic crisis.
Mark is an expert speaker, incredibly knowledge in this sector and is ALWAYS worth listening to. If you an OOH media owner or publisher, this will be a webinar you should not miss.
Join them today Tuesday, April 14, 2020 at 12:00 EST / 17:00 BST. You can register here.