When we see screen networks 'go to the wall' whether they be small, medium or large, well funded, good or not it's always especially nice to see NEW networks appear. Sometimes they are new new and sometimes they are just new to us – yes, although we like to think we know everything, we definitely do not, Ed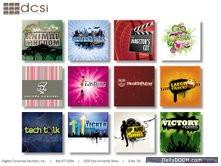 Last week we heard about Digital Consumer Solutions, Inc. who have just under 150 active screens deployed at the moment in high traffic quick service restaurants, convenience and grocery stores in the US – though we believe it is very likely that they will have 1,000 screens up ad running by the end of 2009 (their stretch goal is to deploy upwards of 20,000 active screens in the next 24-36 months)
Like Danoo and Zoom Media in North America and Kaleidovision in the UK, these guys have written their own software rather than go out to the market.
Todd Hanle, head of global marketing and brand for Digital Consumer Solutions, Inc. told us "DCSI spent the first several years in 'stealth' mode as we tasked our internal team of engineers and technologists to build (from the ground up) a robust, scalable, proprietary solution that was cross-platform capable of delivering critical network operations across a secured wireless network"
The result of that effort was DCSI CORE which not only run their entire network but is, we are told, "an affordable and viable solution to other digital signage networks".
We can't comment on how good it is as we haven't seen it – unlike Danoo's software proposition which we think is fantastic but we'd expect DCSI to make a lot more noise in the industry going forward.
ABOUT DIGITAL CONSUMER SOLUTIONS INC. (DCSI)

Tempe, Arizona-based Digital Consumer Solutions, inc. (DCSI) is a nationwide digital signage and advertising network with digital screens located in high traffic quick service restaurants, convenience and grocery stores in most major markets. At the cutting edge of product and technology innovation in the digital-out-of-home industry, DCSI creates a platform for advertisers to engage and inform today's fast-paced, constantly moving culture. By providing everything from the ground up, DCSI is able to customize individual and network-wide content and advertisements for clients based on location and demographics to produce measurable results. Leveraging DCSI's network, advertisers are able to target consumers where other, more traditional, mediums cannot.