Adrian J Cotterill, Editor-in-Chief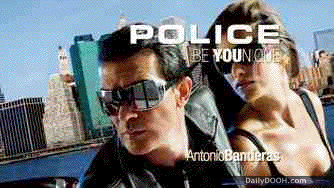 This is Police Eyewear's first foray into digital out of home. Booked by Kinetic. Creative by Grand Visual
It's going to run across seven UK networks covering London, Manchester, Leeds and Liverpool and goes live 5th April 2008.
Grand Visual worked with the communications agency, The Comfederation, to create three separate executions for each network.
Each execution features Antonio Banderas complete with a seductive female companion against a backdrop of modern city-scapes.
The campaign required 21 separate pieces of copy to account for network variations in spot length, format, aspect, ratio and screen resolution (a common problem with multi-network campaigns as we have found with WBCM '07 last year and our Formula 1 GPP this).
Look for the campaign running on CBS Outdoor's DEP network (the tube escalators), Street Live, World Duty Free at LHR, Arsenal FC, Forrest Media City Screen, City Gateway and London's landmark Piccadilly Lite.