UB Media has expanded their OOH presence with the acquisition of MaxTV Media, Canada's largest national residential condo network, resulting in the addition of a fourth specialized network for the indoor place-based media company.
UB Media's latest acquisition allows brands to tap into a unique urban audience in over 500 premium high rise condo buildings nationwide and over 1,500 digital and touch-screens in elevators, lobbies and common areas. The new Residential network has the highest number of digital screens available on all major programmatic platforms, engaging over two million residents and visitors monthly in a captive environment, where their daily journeys begin and end.
President & CEO of UB Media, Michael Minicucci told us "The pandemic placed Residential OOH in the spotlight and we feel it is a staple in OOH media moving forward. The addition of this new network complements our current media offering, allowing us to further diversify our reach while keeping our core vision of growing a larger digital footprint of placed-based OOH products. As we leave the most challenging days of the pandemic behind, we're excited to continue connecting brands with our highly targeted media offering in four synergistic networks".
Captivate's current advertising sales representation of the MaxTV Media network will cease effective October 4, 2021.
Established in 2009, MaxTV Media has a footprint across all major markets in Canada. MaxTV Media is Canada's largest provider of digital communication platforms to the multifamily condominiums sector. Their proprietary interactive digital screens allow for advanced communication between property managers, residents, and businesses. The screens are located in high traffic areas such as elevators, lobbies, parking levels and mail rooms.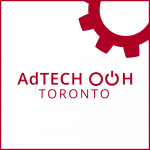 AdTECH: OOH – Toronto, aimed squarely at Canadians takes place Wednesday October 6, 2021 and is supported by COMMB, Digital Signage Pulse and IAB Canada. It boasts a fantastic speaker line up which includes a keynote from COMMB President Amanda Dorenberg. The event will be chaired by Yahoo's Stephanie Gutnik. There are only a handful of tickets left.
Note that COMMB and IAB Canada Member discounts are available. COMMB Members should contact Lara Menzies lmenzies@commb.ca for details.