Adrian J Cotterill, Editor-in-Chief
The Mizlou Thoroughbred Racing Network (MTRN) is a place based OOH digital media network airing broadcast spots and billboards between live simulcast of thoroughbred races from racetracks across the U.S.
MTRN affiliates include all racetracks, casino sport books, OTB's and other entertainment/recreational venues in North America and we are told, delivers a captive, participatory audience of 750,000+ upscale adults daily, 363 days per year!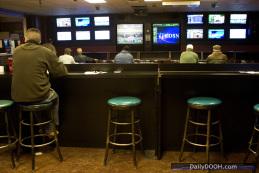 Depending on the racetrack, there are anywhere from 300 to 3,000 television monitors placed throughout the venue.
Monitors on the betting floor are usually placed in banks of ten with multiple incoming live race feeds being displayed and other areas in the tracks (bars, restaurants, etc.), have fewer monitors clustered together.