Russ Curry, Ministry of New Media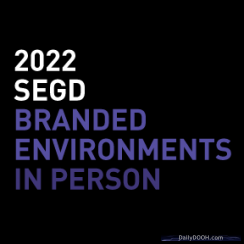 SEGD Branded Environments 2022 is the event focused purely on brand experiences that transform engagement within public spaces. Join SEGD and their speakers as they explore all aspects of Branded Environments from retail to sports venues.
This event will be held in-person on October 13, 2022 during New York Digital Signage Week.
Non-Members: $395.00
Members: $295.00
Students & Associates: $0.00
Registration can be found here.
Now in its 11th year, New York Digital Signage Week will take place October 10 – 14, 2022 and as usual will include the DPAA Video Everywhere Summit, AdTECH: OOH – New York, The DailyDOOH Investor Conference, two SEGD conferences and The DailyDOOH Gala Awards, which will once again take place in New York.