Guest Contributor, Chris Bo Shields
Roughly this time last year, Sky Glass debuted in the UK. The technology was revolutionary because it allowed viewers to live stream all their Netflix, Sky, Disney+ BT Sports and terrestrial TV content all in one place, without the need for a separate TV or satellite dish.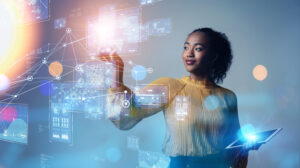 As the volume of live and on demand content we are all consuming in our daily lives grows, the idea of bringing everything into one digital space viewed through a single lens is undeniably powerful. That is the guiding principle behind our new digital engagement platform, Reef – a single ecosystem for all your events, content, communities and learning. Launched this week, Reef is designed to bring people, content and data together on one unified platform.
A tipping point for the next wave of digital transformation.
The pandemic turned the events industry on its head, sending it running into a sea of virtual channels. Now the market is once again at the tipping point of a new digital transformation; one that will see more sustained, cohesive audience journeys and greater commercial opportunities – but only if we can bring content and data together.
Across both the commercial eventing and corporate 'in-house' event sectors, the model is moving away from being about a single siloed in-person gatherings, evolving instead into a blend of physical and virtual engagements, sustained throughout the year using webinars, microsites, spin-off events and on demand sessions.
Events are notoriously big budget line items. To keep up with audience expectations and to justify spend in the current market, we need to reimagine how individuals and communities interact with that event both during and beyond the four-day conference, creating data-rich journeys. Events need to become 'smart' so to speak.
Held back by fragmented technology.
What's preventing event professionals from nurturing these new opportunities however is fragmented technology. It's no secret that event teams regularly spin different plates grappling with five or six different software systems. Without the data all in one place, we make it almost impossible to build a complete picture of audience behaviour and by fragmenting the audience experience we risk them simply tuning out.
Smarter journeys with Reef.
Bringing all your engagement and content into one platform, Reef empowers event teams to build data-rich, smarter audience journeys.
Imagine if you will, a delegate interested in AI attends an in person session on the topic and scans a QR code to download the slides and research report. Afterwards, they also watch on demand content about machine learning, so we invite them to join a digital community – to meet the speakers, as well as consultants, investors, and tech providers also interested in AI and machine learning.
Now we've got deep behavioural data about a group of people with a shared interest, we can explore year-round engagement potential. We can invite them to follow-up webinars, partner or sponsor-led roundtables and serve highly targeted thought leadership, articles, news and invitations to other events. And the beauty is that we know exactly who the most engaged members are, what content they are consuming and what's being discussed.
Expanding into learning and development.
When we stood back to look at the problem more globally, we realised it didn't only apply to traditional external audiences. Why are we asking employees, for example, to log in to multiple, disparate platforms to learn and engage with one another?
What if your employees or members could go to one virtual town square to complete onboarding tasks, join company all-hands, complete their data protection training, watch a new product demo or join the LGBTQ community events? When it comes to nurturing and retaining talent wouldn't this simply make much more sense?
A place where experience comes first.
Regardless of which audiences you are engaging, one principle is sacrosanct; you shouldn't treat your digital engagement hub as merely a content repository. As much as possible, it should be immersive, engaging and a delight to explore – just like your in-person events. A place where people feel valued and welcome to collaborate.
After all, what you want people to be able to do with your content is just as important as how you want them to feel.
Totem's Co-Founder Christopher Bo Shields explains why event organisers desperately need a platform that brings events, content, communities and learning into one smart environment.