Adrian J Cotterill, Editor-in-Chief
Yahoo's Global Head of DOOH Stephanie Gutnik is chairing two more AdTECH: OOH Conferences for the Ministry of New Media this year.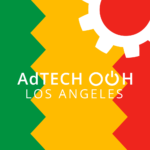 With successful AdTECH: OOH – Miami and Toronto Conferences behind her (this year alone) she now moves on to chair AdTECH: OOH – New York in October and Los Angeles in November.
As always, both will boast a fantastic speaker line up.
Registration for New York will open shortly.
Stephanie leads Yahoo's DOOH team, and is responsible for defining overall strategy, product feature set and go-to-market plans for all DOOH efforts globally.
Before joining Yahoo she spent two years as Vice President, Digital Strategy and Programmatic Sales at OUTFRONT Media and before that she was with Broadsign for six and a half years, rising to the position of Vice President, Business Development.
Since 2016, Stephanie has been instrumental in helping the Ministry of New Media in formulating their successful AdTECH: OOH Conference series of events which now take place annually in Singapore (March), Miami (April), London (May), Toronto (May this year but will move to June in 2023), Sydney (August), New York (October), Los Angeles (November) and Amsterdam (December).
The Ministry of New Media are also looking at an AdTECH: OOH – Auckland event in New Zealand in February or March 2023.