The Out of Home Media Association Aotearoa (OOHMAA) reported this growth of 26% in Q3 YOY; $32.2 million in media revenue, up from $25.5 million for the same period last year.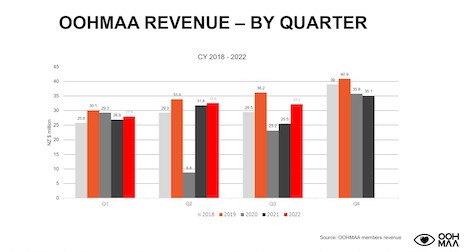 Aotearoa's Digital Out of Home (DOOH) share of media revenue has consistently averaged 66% +/- 2% since Q4 2020, a trend that remains in Q3 with media revenue of $21.6 million. And, while still in its infancy, Programmatic Digital Out of Home pDOOH has experienced steady growth since OOHMAA started reporting its numbers early this year; in Q3, pDOOH has almost doubled from Q2, from 2.6% share of Digital media revenue Q2 up to 4.3% in Q3.
Natasha O'Connor, OOHMAA General Manager, told us "Out of Home's growth YTD has been gratifying to see in a challenging market; the most significant challenge being our largest city experiencing heavy covid restrictions for much of Q1 & Q2. Despite this, and the wider national concerns of an increase in living costs, falling house prices and ongoing talk of a recession, we've seen strong growth of 10% for the channel YTD. Our revenue results to date reflect the continued faith agencies and advertisers have in our channel to deliver results. OOHMAA and its members are focused on continuing to drive and deliver initiatives to support the industry's ongoing stability; in Q4, members JCDecaux, oOh! and MediaWorks, with OOHMAA, are working together to enhance Out of Home measurement knowledge with a user education program on the Calibre platform towards the end of Oct/early November. Out of Home looks to finish the year on a high as brands turn to the channel to drive fame, attention, and cut through with audiences in the lead-up to Christmas."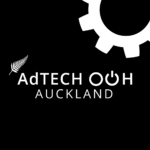 We note that OOHMAA's Standardisation Committee, in consultation with key Advertising Agencies, will deliver an Out of Home Standard, a common set of business processes, metrics and practices providing greater transparency and ease of transacting Out of Home in late 2022/early 2023.
The Ministry of New Media are currently planning AdTECH: OOH – Auckland which will take place in February 2023.