Adrian J Cotterill, Editor-in-Chief
The first AdTECH: OOH Conference for Silicon Beach takes place next week in Venice Beach and as always, it boasts a fantastic speaker line up thanks to Yahoo's Global Head of DOOH Stephanie Gutnik who will (also) chair the event.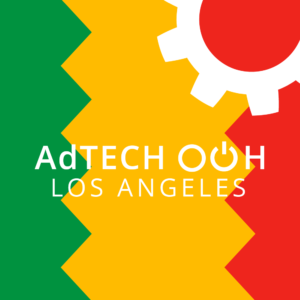 08.30 REGISTRATION
09.00 Welcome | Stephanie Gutnik | Global Head of DOOH | Yahoo!
09.30 Jason Zollan | VP US Sales | Yahoo! In Conversation With Autumn White | EVP Digital, Managing Partner | Horizon Media and Travis Macionsky | SVP, Director OOH | Horizon Media
10.00 Christian Kull | EVP Client Partnerships | Adomni In Conversation With Ha'Londra Dismond | Programmatic Media Manager | HP Inc. and Caitlin Nardi | Senior Programmatic Manager | HP Inc.
10.15 Measurement in DOOH: Vardan Kirakosyan | SVP Research & Strategy | MFour Mobile Research
10.30 The Future of Street-Level Storytelling: Roey Franco | SVP Product | Firefly
10.45 COFFEE
11:15 Women in Tech: Panel Moderated by Kim Sarubbi | Vice President of Media, Division President, COO | IoTecha Corp with:
Lori Dawn Howl | SVP Retail Development & Marketing | NBC Universal Media and Joe Hasenzahl | National Director of Sales, B2B Mobility for Retail | Samsung Electronics America
11:45 Vistar Case Study: Leslie Lee | Senior Vice President, Marketing | Vistar Media in Conversation with Jaime Ogus | Director of Regional Marketing | Jack in the Box
12.00 Proving DOOH Success: Ian Dallimore | VP Digital Growth | Lamar
12.15 Connecting Art and Science with Programmatic DOOH: Craig Benner | Founder and Chief Executive Officer | Accretive Media In Conversation with Casey Baker | SVP of Media | Rareview
12:45 CLOSE
The event is aimed at those already in AdTECH wishing to learn more about the Out of Home Industry, and for those in Out of Home who wish to better understand Automation, Programmatic Buying, Marketplaces, Media Exchanges and Revenue Management.
Registration can be found here.
#ff @StephanieGutnik @HorizonMedia @tmacions @AdomniOfficial @mfourmobile @Firefly_Cities @iotecha @VistarMedia @LeslieSarahLee @idallimore @accretiveads @rareview @Casey_P_Baker