Adrian J Cotterill, Editor-in-Chief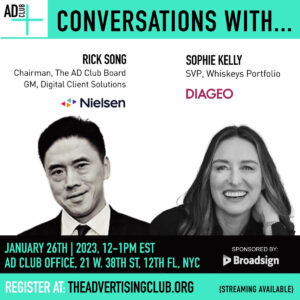 Join the ADVERTISING Club of New York this Thursday January 26 as their members' favorite "Conversations With…" Series is back to kickstart 2023.
In person or online you can join Ad Club Board Chairman Rick Song SVP, Group Head of Digital Sales, Nielsen who will be in conversation with Sophie Kelly, SVP, Whiskeys Portfolio, Diageo.
The event takes place 12:00 – 13:00 ET at the AD Club Office, 21 West 38th Street, 12th floor, NYC.
Streaming is available.
Registration can be found here.