Adrian J Cotterill, Editor-in-Chief
Former Starcom and iHeartMedia exec Kristina Lutz has joined GSTV as its new EVP, Marketing.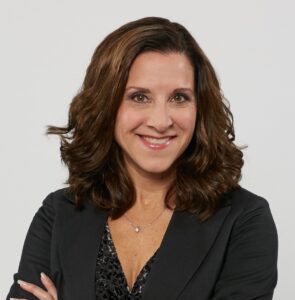 In her new role, Kristina will lead integrated marketing, ad sales solutions, public relations, and brand activations, among other areas. She is based in Chicago and will report to GSTV President and CEO Sean McCaffrey.
Kristina has over two decades of marketing experience, joining GSTV from CarSaver where she was VP, Strategic Partnership Marketing. While with the auto ecommerce platform, she helped develop and execute strategic partnerships to expand offerings, build brand awareness, and drive sales as a key member of the leadership team. Previously, she held various leadership roles at Starcom and iHeartMedia..
Sean told us "When searching for our next marketing head, we wanted to find someone with deep, diverse knowledge who could help us continue sharing what GSTV's video platform offers advertisers and consumers. With her varied experience across agency, brand, and publisher perspectives, Kristina emerged as the perfect candidate. As we head into another NewFronts season, I'm excited to partner with her to continue spreading awareness of GSTV's full offering, especially knowing her track record when it comes to brand building and client solutions."
Prior to the brand side, Kristina served as President for Starcom USA, with a staff of 600+ across Chicago, New York, Detroit and Los Angeles and led the agency's investment, content, and multi-cultural practices, focusing on innovative, client-specific activation across all channels and all clients and she was also a key member of the Publicis Media Exchange (PMX), the largest U.S. media buying entity, fueling cross-channel marketplace innovation and transformation.
GSTV, the national video network engaging and entertaining targeted audiences at scale across tens of thousands of fuel retailers also announced two other key new hires…
Jennifer Cesa, joins as Regional Vice President, Client Partnerships. Cesa joins GSTV from Shutterstock, and prior to that had sales leadership positions at Tastemade and across the Scripps/Discovery lifestyle portfolio of networks.
Geoff Maresca steps into the position of Vice President, Agency Development, after holding sales leadership roles at leading media and martech companies including Ryff, Amobee, FreeWheel, Quantcast, AOL and Microsoft.
We are told that Jennifer will oversee GSTV's client partnerships on the East Coast, while Geoff will focus on further honing agency holding company relationships.
Both hires look to be key elements of GSTV's continued focus on best-in-class national advertising solutions for agency and brand partners. Based in New York, both will report to Chief Revenue Officer, Scott Pawloski.