Adrian J Cotterill, Editor-in-Chief
It is with great sadness to hear that MediaVue Founder and CEO, David DeGiorgi passed away on Saturday, March 25th after a 16-month battle with brain cancer.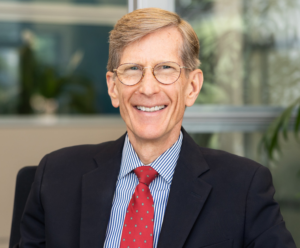 He passed peacefully, surrounded by his family, and is survived by his sisters, Debbie and Lisa, daughter, Amanda, son and MediaVue co-founder, Erik and grandson, Ronan.
David grew up in Berlin, Connecticut. In addition to being an avid basketball player, David was an Eagle Scout and altar boy at St. Francis of Assisi parish. David went on to study economics at the University of Pennsylvania, earning a BA from the Wharton school. As a member of the class of 1976, David also rowed crew and became a Midshipman through Naval ROTC.
In 1987 David started his first company, the Monitor Maintenance Company, which he began by picking up, repairing, and dropping off broken CRT monitors from local businesses in the trunk of his car. Within a few years the company grew and was rebranded to EAD Systems, named after his children; Erik, Amanda & Dad. EAD Systems continued to grow and at its peak prior to its acquisition, EAD was servicing over 1,000 monitors a day.
His experience in monitor repair led David into the digital signage industry. In addition to repairing monitors, EAD began repairing the early PCs that were being used for digital signage. David saw firsthand what the most common points of failure were and set out to design an embedded computer that could withstand the demands of emerging digital signage applications. In 2007 MediaVue Systems was formally launched, bringing to market one of the first hardware devices engineered specifically for digital signage. Now commonly referred to as a Media Player, David led the company through the development and refinement of dozens of hardware devices.
In 2006 David was the first ever chairman of the DailyDOOH Investor Conference.
On top of David's work in technology, he was a quiet patriot, passionate about foreign policy and intergovernmental relations. In 1986 David was part of a delegation that traveled to the Soviet Union and successfully negotiated an arms de-escalation during the height of the Cold War. After 9/11, David worked pro-bono for the Pentagon, helping to organize the deployment of troops into Iraq and Afghanistan alongside senior Army logistics officers. Through his work in the country, David developed deep ties to the people of Afghanistan, and in 2014 was the U.S. liaison for an Afghan minister and Presidential candidate. In the summer of 2021, during the fall of Kabul, David worked tirelessly to help those left behind acquire Visas and evacuate the country.
David's life was one of service and contribution. Whether it was his country, company, family, friends or someone whom he just met, David was always the kind of person who would extend a hand and do whatever he could to help. To those that were fortunate to work alongside him, David was an inspirational and passionate leader. He will be deeply missed.