Adrian J Cotterill, Editor-in-Chief
OUTFRONT Media Inc. (NYSE:OUT) is celebrating PRIDE Month in June by partnering with he Gay & Lesbian Alliance Against Defamation (GLAAD) for a special OOH campaign entitled '15 Seconds of Fabulous'.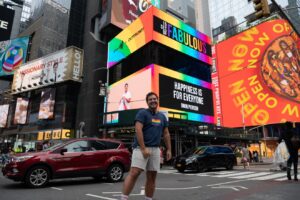 Throughout the month of June, select OUTFRONT billboards and transit will be displaying messages of celebration and support to and from the LGBTQ+ community and their allies. The campaign will run nationally for the month of June, plus in select cities as one-hour blocks on assets in close proximity to Pride festivals and parades.
For a minimum $15 donation to GLAAD, participants can have their name, photo, and message displayed on a billboard along with their choice of a LGBTQ+ flag, the colors of which will form the border of their message. The flag options are bisexual, gay, lesbian, pansexual, transgender, and rainbow. The design for the campaign was created by an internal team of artists from OUT at OUTFRONT Employee Resource Group.
One of those who already made a GLAAD donation was Owin Pierson, an influencer known as Forbes' Millennial Globetrotter with a following of 275K. He was so excited about his billboard that he flew to NY from LA to see his Times Square billboard in-person. He then shared his experience with his following, driving massive engagement on Instagram.
"Owin Pierson's reaction and story are a testament to the power of our medium and its unmatched ability to provide fame, connect with the community, and drive social amplification. We are proud to partner with GLAAD this year, driving awareness and donations to a great organization. We are excited to give many others their 15 seconds of Fabulous this June" said Liz Rave, Vice President, Marketing at OUTFRONT.
Mel Harris, Vice President, Strategic Partnerships, said "Corporate allyship is integral to GLAAD's mission. We are grateful for partners like OUTFRONT, who understand that Pride is more than just a celebration in June — it is a year-round conversation to advance inclusion, representation, and acceptance of the LGBTQ community. In the current social climate, moving the needle requires more than passion or passing commitments. This challenge requires thoughtful support from industry leaders who are intentional about changing culture, dignifying LGBTQ lives, and amplifying our voices. We are excited to be the beneficiary of OUTFRONT's campaign, and are grateful for the positive impact each donation will have on our media advocacy work around the nation."
To learn more about this campaign and all entry details, terms and conditions click here.
OUTFRONT is committed to OOH that empowers and celebrates communities, and the '15 Seconds of Fabulous' campaign is just one way the media company is celebrating PRIDE.
MOMENTS by OUTFRONT is also running Pride-related content in NYC transit for the month of June. OUTFRONT's Moments in Art channel is featuring The Rainbow Flag from MoMA's collection, and they also published a children's book called The Rainbow Flag: Bright, Bold, and Beautiful that tells the story of the iconic flag's origins.