Adrian J Cotterill, Editor-in-Chief
Clear Channel Outdoor (NYSE: CCO) has announced new partnerships integrating its own RADAR data platform with best-in-class Data Clean Room (DCR) applications and services from Aqfer, Habu, InfoSum and LiveRamp.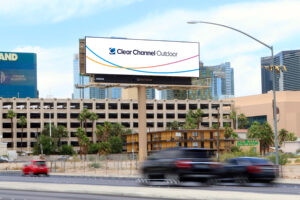 This next-generation secure data integration revolutionizes first party-data matching for OOH, allowing brands who are already active DCR users and those who want to plan and measure OOH ad campaigns using their own data, to leverage OOH's scale and creative impact in a privacy-conscious and secure way.
Increasingly used by digital advertisers for the last few years, Data Clean Rooms are secure environments where data from various sources are connected, analyzed and activated while adhering to strict privacy and compliance standards. With the integration of DCR into its Clear Channel Outdoor RADAR suite of solutions, Clear Channel Outdoor is the first OOH media company in the U.S. to harness this advanced privacy-centric technology. This enables brands using DCRs for audience targeting and campaign amplification to run the most relevant ads and understand and analyze audience behaviors, by offering a secure way for brands to unlock insights from sensitive data without sacrificing security, privacy or performance. By activating these new partnerships and integrations within the Clear Channel Outdoor RADAR data platform, brands can securely leverage their own data throughout the planning, optimization and measurement of their campaign while allowing for more precise audience targeting and attribution in a one-to-many medium, like OOH.
This Data Clean Room integration with Clear Channel Outdoor arrives at a pivotal time as platforms phase out the use of third-party cookies and other identifiers amid rising state and federal privacy regulations where brands can expect a potential loss of online data. With the challenges rising in targeting and measurement across digital channels that are reliant upon cookie data, Clear Channel Outdoor is enabling a solution that allows brands to reach their core audiences and measure outcomes in a privacy-compliant manner.
Jeremy Flynn, SVP, Data Products and Strategy, Clear Channel Outdoor told us "More and more digital-first brands are recognizing the power of OOH to deliver their message to the right audience segments with measurable impact and at scale, said These DCR integrations allow OOH to be seen as an integrated part of a performance marketer's media mix and we believe this innovation will bring more brands into the OOH space because of our advanced abilities to leverage their chosen data to plan, measure & optimize outcomes."
To provide choice for brands and advertisers' preferred DCR capabilities, Clear Channel Outdoor RADAR has enabled secure data collaboration integration services from Habu, InfoSum, LiveRamp and Aqfer to deliver a highly secure environment for Clear Channel Outdoor and its customers. The ability to work together with sensitive data, helping ensure confidentiality and protection while enabling customers to collaborate with each other's data without revealing any sensitive information ensures the highest level of privacy and protection is considered for both consumers and advertisers.
"As OOH continues to play a more prominent role in omni-channel strategy for data-driven brands, we are thrilled to partner with Clear Channel Outdoor to deliver the first-to-market OOH clean room solution to advertisers," said Matt Kilmartin, Co-Founder and CEO of Habu, a global innovator in data clean room software. "Clear Channel Outdoor is pioneering a new era of excellence for OOH advertising capabilities and we look forward to continued innovation with them in the months ahead."
Historically, brands have relied on tech companies to tell them about their audiences and the identifiers used in the online space do not necessarily put consumer privacy first. Today, brands want increasing control over their own customers' data and this new, first-to-market integration, respects their ownership of the data when working with large media publishers, like Clear Channel Outdoor, to reach their consumers. And this innovation further enables OOH to be a part of a brand's omni-channel targeting and measurement strategy as the privacy landscape shifts.
"We're thrilled to be working with Clear Channel Outdoor to facilitate a true multi-party collaboration solution without any reliance on third-party cookies. This partnership will enable brands and publishers to execute targeted OOH advertising in collaboration with Clear Channel Outdoor", said Jared Hand, SVP, Sales, North America at InfoSum, the world's leading data collaboration technology. "We are excited to work with an innovative company that shares our vision of doing right by consumers and who is leading the way in the use of clean room technology to execute true omnichannel campaigns."