Adrian J Cotterill, Editor-in-Chief
Alongside the appointment of Julie Thompson who joined the Out of Home Advertising Association of America as Executive Vice President and Chief Marketing Officer the organization has announced a couple of promotions.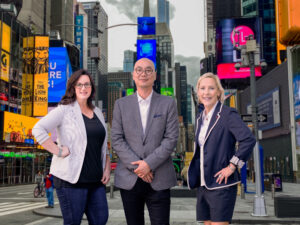 To match OAAA's capabilities with the growing demands of its members and the expanding marketplace, Jeff Jan has been elevated to Executive Vice President of Strategy & Growth and Kate Scanlan has been promoted to Senior Director of Marketing.
We are told that the formation of this new team (including Julie Thompson shown far right in the picture above) will further Anna Bager's growth objectives for OAAA in service of its member companies.
Jeff Jan's promotion from Head of Industry Initiatives to EVP, Strategy & Growth strengthens the organization's leadership team, bringing extensive experience and expertise in executing revenue-driving growth strategies. His comprehensive understanding of the OOH industry will be instrumental in driving the organization's goals and enhancing its market position. He will continue to manage all committees, working groups, councils, task forces, and will drive key industry initiatives, including research, standards, and practices. Prior to OAAA, the 23-year industry veteran held key positions at several agencies, including Billups, Venables Bell & Partners, Wieden + Kennedy, TBWA/Chiat/Day, and Crispin Porter + Bogusky.
Kate Scanlan's promotion to the role of Senior Director of Marketing is a testament to her exceptional contributions to the organization over the last year. In addition to her existing role as content marketing and communications lead, she will take on new responsibilities, such as driving market engagement tactics, digital marketing operations, and thought leadership initiatives. Prior to OAAA, Scanlan spent 15 years growing the editorial team at Captivate before expanding her OOH horizons writing for OOHToday.com.
The announcements we are told reflect OAAA's commitment to the talent needed to expand the reach, impact, and influence of OOH advertising at a pivotal moment. OOH advertising revenue in the US increased 20.7% in 2022 compared to the previous year, accounting for $8.6 billion. This marked a critical milestone for 00H, with 2022 outpacing the previous records set in 2019. In fact, 00H grew faster than any other core ad medium last year, according to research from Magna Global, a leading media intelligence firm.