Adrian J Cotterill, Editor-in-Chief
Wildstone has taken a significant step forward in their mission to digitise out-of-home media assets across the European continent with the successful installation of their inaugural, next-generation digital screen in Madrid.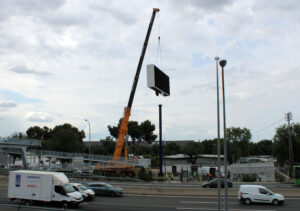 Louis Watson, Technical Manager at Wildstone told us "One of the standout features of the screen is its innovative use of Lens on Board (LOB) technology. By integrating a lens on top of the LEDs, the screen achieves amplified brightness and increased contrast, while minimizing energy consumption. Additionally, the lenses serve as protective shields for the LEDs, ensuring their longevity and offering hassle-free replacement if necessary."
The newly commissioned digital screen, measuring 12 meters in width by 5 meters in height, marks a milestone for Wildstone as they replicate the success of their platform in acquiring, upgrading, and scaling their outdoor media infrastructure portfolio in Europe and beyond.
Juanfran Muñoz, Managing Director at Wildstone Spain, said "We are thrilled with our success in installing our inaugural digital screen in Spain. It's been a challenging yet deeply rewarding project, where our team surpassed itself in hard work, innovation, and efficiency. Throughout the process, energy efficiency remained a key consideration. The use of Lens on Board technology proved to be an excellent decision, significantly reducing energy consumption without compromising image quality. Completing this pioneering project fills us with immense pride, demonstrating our unwavering commitment to excellence, quality, and environmental responsibility. As we continue to shape the future of outdoor media infrastructure, we are dedicated to providing cutting-edge solutions that drive our clients' growth and create captivating experiences for the audience."
Situated along the bustling A-2 motorway in Madrid, the cutting-edge screen has been designed specifically for the Spanish market and crafted to withstand the region's climate. It marks a step forward in technology alongside the company's existing 60 digital panels already in operation in Spain.
José Luis Durán, CEO and Founder at Impact OOH  – the media operator of the site, added "This is the most significant leap in quality and sustainability in Spain's outdoor advertising landscape for the 'digital monopost' format, all thanks to Wildstone's innovative approach. It marks the beginning of a transformative and expansive phase in Spain's digital monopost market. We are confident that our clients will greatly appreciate the enhancements in quality and energy efficiency, which will undoubtedly spur increased investments in the digital medium from our existing clients and attract new customers to the digital monopost format. At Impact OOH, we express our gratitude to Wildstone for their trust in our sector and their pioneering efforts in driving the digitisation of outdoor advertising."