This Friday, September 15 join the Canadian Out-of-home Marketing and Measurement Bureau (COMMB) for a webinar where they will discuss 'Out-of-Home in the Media Mix.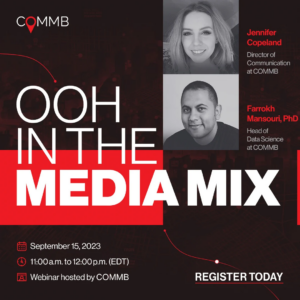 Our regular readers will know that #OOH enhances the reach of every media type but please join COMMB as they take a deep dive into their new research piece 'Out-of-Home in the Media Mix' with data-driven insights on OOH's role within the broader media landscape.
11:00-12:00 EDT (in English only).
The hosts are COMMB's Jennifer Copeland, Director of Communication and Farrokhh Mansouri, PhD, Head of Data Science (who will also be chairing our first AdAI: OOH Conference in Toronto on Friday November 3, 2023).