Enrique Tomás, the world's largest ham chain, has implemented nsign.tv's digital signage platform in its new model of Enrique Tomás GO!urmet vending machines that has just been launched at Barcelona Airport.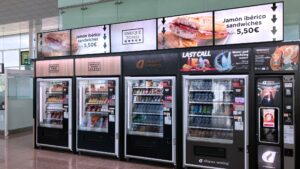 The first phase includes a total of 30 stores, distributed at strategic points throughout the Barcelona airport, which offer, 24 hours a day, a wide variety of the brand's products at the same quality and price as those found in the company's other points of sale.
Consumers can find everything from different varieties of Iberian ham and acorn-fed ham sandwiches to ham packets, as well as potato chips and other snacks, natural orange juices, and the brand's new star product, a soft bread with shavings of the best ham, with which the company hopes to reach, also through vending machines, millions of consumers around the world.
Toni Viñals, CEO of nsign.tv, told us "We are very pleased that our platform has been chosen by Enrique Tomás for this new business model so disruptive. Digital signage will allow them to create a wow effect communication to attract their customers and thus increase sales through dynamic and attractive visual content".
Each of the vending machines is equipped with between one and five iiyama branded 50 LCD screens which, thanks to the manufacture of custom-made brackets, can be anchored to the vending machines, ensuring perfect digital communication of the entire range of products available and helping to promote, attract and increase sales.