Adrian J Cotterill, Editor-in-Chief
Clear Channel Outdoor (NYSE: CCO) has started rolling out its exclusive network of Out-of-Home Showcase Shelters, a fully-customizable advertising reboot of the traditional transit shelter, in the highly coveted Los Angeles metropolitan area.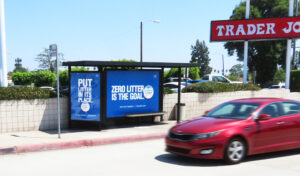 The Clean California campaign is the first advertiser to debut their ad campaign on these Showcase Shelters that will reach thousands of commuters and residents daily in prime locations across Los Angeles.
Clear Channel Outdoor's Showcase Shelters offer immersive, tailored advertising experiences that engage consumers at eye level with creative presentations and an array of engagement opportunities, including activating via QR codes, sharing hashtags and featuring call-to-action prompts that drive action and engagement across social media platforms. Today, these premium transit shelters are located in densely populated urban centers and areas with heavy foot traffic, including the metropolitan areas of San Francisco, San Diego, Sacramento, Washington, D.C. and now Los Angeles.
"As we continue to match the needs of our client and community partners with our growing capabilities and solutions, the launch of our Showcase Shelters in Los Angeles gives brands and non-profits alike the unique opportunity to bring their campaign to life with impactful, stunning imagery that drives audience engagement," said Greg McGrath, Regional President, Clear Channel Outdoor-Southern California. "We are excited to amplify the Clean California campaign and welcome them as the first advertiser to leverage our new Showcase Shelters in the market where they will reach and engage with consumers in the greater Los Angeles region and throughout our suburbs".
Brands can utilize the Los Angeles Showcase Shelters situated in highly desirable areas with limited OOH displays, including Pasadena, Altadena, Glendora, San Marino and residential Ladera Heights, to reach both vehicular and pedestrian traffic. Moreover, the transit shelters are located near healthcare facilities and medical centers, at entrance points to shopping centers and in front of fast casual and QSR restaurants, with access to a valuable audience of frequent travelers, shoppers and working professionals in high-income household communities.
In addition to selecting them based on locations, advertisers can plan their Showcase Shelters campaign by leveraging nearly 4,500 behavioral audience segments in Clear Channel Outdoor's RADARView®, a dynamic campaign visualization tool that combines digital audience insights with demographics and location targeting to efficiently reach a brand's desired customer.
Each shelter allows brands to optimize the entire field of view with 100% share of voice guaranteed, inviting bold designs that captivate consumers by implementing add-on elements, such as 3D extensions, lighting effects and more, to increase brand awareness and impact. Clear Channel Outdoor's award-winning creative team is available to help marketers transform their ad campaigns into memorable brand experiences.
As the second-largest U.S. media market, Los Angeles is one of Clear Channel Outdoor's top markets where the company's footprint and wide array of OOH displays and formats reach 81 percent of the DMA 18+ population monthly. (Source: 2023 Geopath).