Adrian J Cotterill, Editor-in-Chief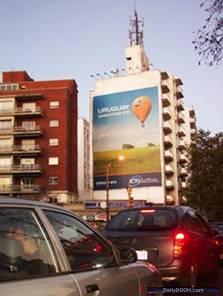 Well worth a mention…
CBS CORPORATION TO ACQUIRE INTERNATIONAL OUTDOOR ADVERTISING GROUP (IOA) FOR $110 MILLION IN CASH

Leading Outdoor Advertising Company in South America Has Over 17,000 Advertising Faces in Argentina, Brazil, Chile and Uruguay

CBS Corporation (NYSE: CBS and CBS.A) has signed a definitive agreement to acquire International Outdoor Advertising Group (IOA), the leading the leading out-of-home business in South America with more than 17,000 advertising faces in Argentina, Brazil, Chile and Uruguay, for $110 million in cash, it was announced today by Leslie Moonves, President and CEO of CBS Corporation, and Clive Punter, President and CEO of CBS Outdoor International, which encompasses Europe, Asia and now South America.

The four countries in which IOA operates, comprise more than two-thirds of the continent's population, GDP and advertising-spending growth, and offer CBS Corporation an entry point and leadership position into the fast-growing South American market.

"Outdoor has proven to be a high-growth business for CBS, and we're pleased to expand in one of its hottest and most promising marketplaces," Moonves said. "As an established, locally-managed asset with both breadth and scale in Latin America, IOA is a great complement to our outdoor billboard businesses in Mexico and Spain. What's more, it gives us yet another opportunity to deepen CBS's international footprint into a new continent."

"We see a lot of potential to expand and grow IOA's billboard business," said Punter. "We continue to apply best practices from across our international operations to improve each of our locally managed businesses. I'm pleased that Leslie and CBS have afforded us the opportunity to include IOA into our growing portfolio of international assets. IOA will greatly increase the size of the business by adding not only scale but opportunities for leveraging existing business within the group."

IOA CEO Jack Sabaj will continue to manage the business. He will report to Antonio Alonso, Chief Development Officer for CBS Outdoor International and previous general manager of CBS Outdoor in Spain.

"This is a great day for IOA," said Sabaj. "The combination of CBS's operational know-how and available resources will greatly help our ability to grow in South America's key markets. We're very much looking forward to joining the CBS family."

"Jack and his team have established a strong business. Their local knowledge combined with Antonio's expertise of creating a winning model for building international brands in Spain — will make a formidable team for CBS as we enter this new continent," added Punter.

The transaction is expected to close during the second quarter of 2008, and is subject to customary approvals and closing conditions.