Adrian J Cotterill, Editor-in-Chief
Costa Coffee, the UK high street coffee shop chain, is advertising its handmade coffee production via ads on part of atmAd's national network of ATMs. The campaign went live last Monday 21st September to promote Costa Coffee's commitment in using manual coffee grinders rather than mechanical push-button machines to prepare coffee for customers.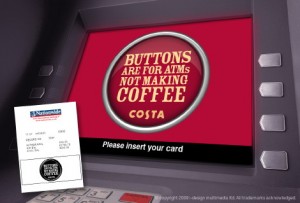 Jim Slater, Marketing Director at Costa Coffee told us "Every single cup of coffee made in Costa is handmade bespoke for its customers by the baristas that work in our coffee shops from start to finish. We have a proud heritage of traditional coffee production and needed a medium that could communicate this message to customers on a one-to-one basis on the high street. Through atmAd, we can reach our target audience with engaging and exciting ads, reminding them of our commitment to traditional handmade coffee by highly skilled baristas."
The ad, which is running across targeted sites in towns and cities across the UK, is tailored to Costa Coffee's message that buttons are for ATMs, not for coffee machines.
The campaign is part of a wider awareness campaign by Zenith Optimedia, and includes print adverts in the national daily press as well as online advertisements.
Justin Stark, Head of Media Sales, atmAd told us also "atmAd delivers national advertisers unrivalled message cut-through, via its unique one-to-one with each customer. By tailoring their creative to match the medium, Costa Coffee's atmAd campaign is both relevant and engaging, delivering their message more effectively," he concluded.
About i-design

i-design is the world leading specialist provider of ATM advertising software and services to the self-service industry and creator of atmAd, the only platform independent end-to-end ATM marketing solution with integrated third party media sales capability. With atmAd, financial organisations can effectively deliver internal and third party advertising campaigns as well as implement effective marketing through their ATM networks – enhancing the customer experience, generating new revenue streams and delivering high impact targeted one-to-one advertising messages.

Established in 1991 and successfully listed on AIM in 2007, i-design has over 15 years experience working with leading banking partners within the self-service industry, seamlessly delivering high quality screen graphics and third party opportunities across more than 1 billion ATM transactions a year, globally.