Adrian J Cotterill, Editor-in-Chief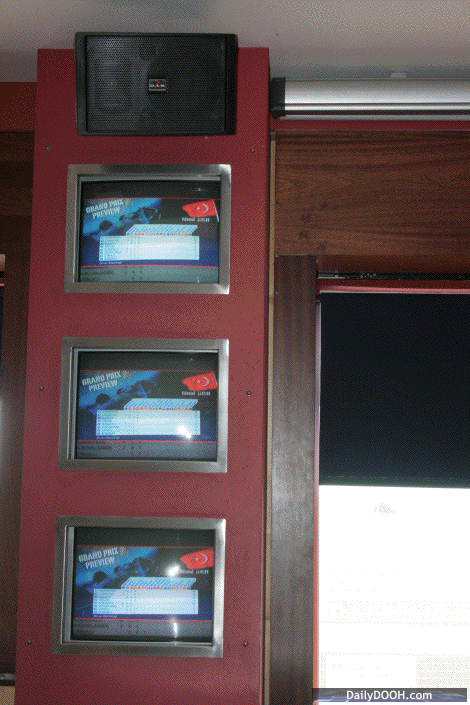 We like to help – we'll scratch your back and often expect nothing in return! We know that good karma will come our way some time in the future – in fact, don't they say that favours given when asking for nothing in return are the best kind of favours?
Anyway, we wax lyrical and poetic (it must be catching from Manolo Almagro's last post)…
BPM Media in Dublin will launch their business officially in May with a press release EVEN THOUGH they have had live test sites running since July 2007 !!
In summary they plan to provide venues with: –
Mood management through music and video with advanced scheduling and templates for each venue
In-house digital signage for venues to communicate with and engage their patrons
Revenue generation through TV-style advertising breaks
We have been providing them with various bits of content, including our Formula 1 Grand Prix Content that they have been playing out regularly (see photo above).
Their product is called Velvet Media Player and is a kind of hybrid background music / video / digital signage product for bars and retail (sounds similar to the Kaleidovision KL2/DJV and KL3 systems that our own Head of R&D was instrumental in building).
BPM Media describe it as "working a bit like a customised MTV for each venue, showing a combination of music videos, video ads, animated content and also static image slide shows and scrolling text".