Russ Curry, Ministry of New Media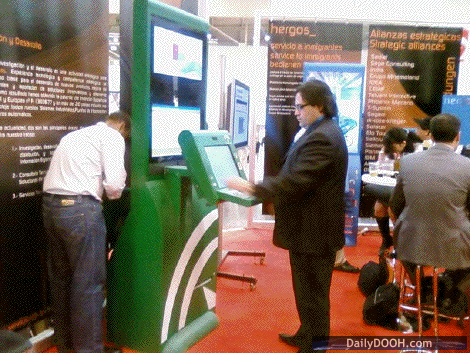 Director General Antonio M. Ceballos Couñago personally twiddles the knobs as the Tardis prepares for lift-off in Essen.
Hergos was one of the sponsors of the Kiosk Expo /Digital Signage Expo in Essen last week.
They are investing heavily in world-wide patents for their (hydraulic?) height setting mechanism for raising or lowering the height of the keyboard for your comfort and safety.
They were also demonstrating their 'instant video CV' machine which they install in Government Employment Agencies in Spain. Also on show was an Orwellian scanning machine that scans your face and fingerprints then relays the information in realtime back to base.
One such machine is already installed in the Spanish Embassy in Ecuador – handy for fast-tracking or blocking visa applications I guess?