Adrian J Cotterill, Editor-in-Chief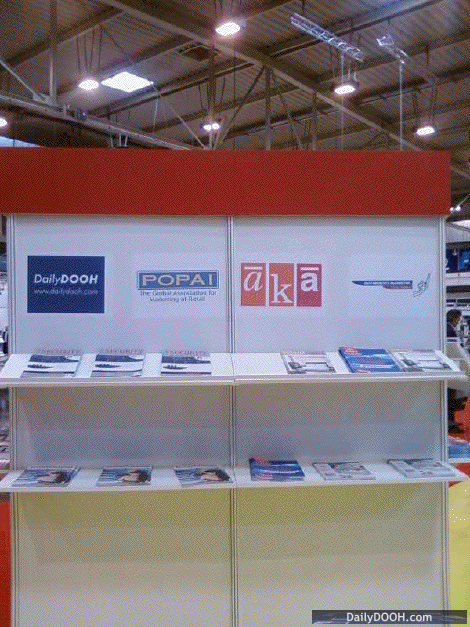 Russ Curry, our Paris based contributor (see previous post) isn't alone with his opinion of DS Expo.
A number of people we spoke to complained of a very slow first day.
One exhibitor told us "First day was VERY slow… I was close to walking away from the whole thing"
He then went on to say "Second day: extremely busy, had some very good leads that I'm following up now! Third day: ok-ish. Not many visitors, but also some good leads"
Another senior exec (not an exhibitor) also said "the show was very quiet and other than Sharp's monstrosity of a stand and the Hantarex stand with the ITrans in the back wall plus a range of portrait Totems from 40″ to 82″, nothing else much was worth looking at"
Others told us that visitors were of good quality and from many different countries.
We think that POPAI did an awful job in supporting this show. POPAI Netherlands didn't even mention the event on their website, so (we are told) there were virtually no visitors from the Netherlands.
As a 'Media Partner' to the event we warned the organisers about the conference sessions.
You will have noticed that we heavily advertised DS Expo on our banner rotations and in the 2 months leading up to the show on our email Daily Newsletter tag lines.
People don't easily part with their money when it comes to conference sessions at Expos and the speaker line up was poor. Despite many emails and several calls to Karin Wunderlich, Managing Director of POPAI in Germany who was (supposedly) organising the speakers for this event (we were offering to speak and help arrange speakers) no one in POPAI got back to us.
One of the speakers told us "attendance on the booths was very low, conference rooms were rather full, but … SMALL. So a bit disappointing as well"
The fact that the conference sessions were very poorly attended was testament to that attitude and that the speaker line up was not compelling enough.
The first few years of a show are always difficult and this was the first year that Digital Signage had been included so it will be interesting to see what the plans are for next year.
We are by no means skilled in the art of exhibitions but Mike Blackman, Managing Director, Integrated Systems Events (ISE is the Amsterdam event at the beginning of every year and has been going 5 or 6 years now) and Mark Pigou from Screen Expo both tell us that at the end of every event you go round and pre-book the exhibitors for the following year. It will be interesting to see how well the organisers have done to date.