We are seeing innovation galore from the various content companies that make up a very useful ecosystem for the industry. The better content companies are packaging up their content nicely (see Iconic Images 'Full HD Time-Lapse Video Clips' for example) and doing seasonal promotions and such like.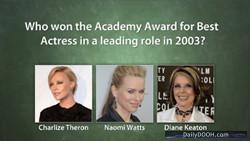 Here we see Screenfeed offer networks a Local Events and Photo Trivia content channel of sorts.
The Local Events channel aims to display a calendar of sports, music, theatre and community events that can be localised to any locations within the US, Canada or major cities around the world.
The animated display features event titles, locations, dates and times as well as a photos that change every 5 seconds – the idea here being to allow networks with short dwell times to provide value to the viewer quickly then transition to say, ad-based content.
Networks we are told, can choose to include only events within a local 10-mile radius for more of a neighborhood feel or a 50-mile radius to include major events around the metro area.
As is usual with content these days (think Doohstuff's blue-screen approach to delivering some of its content) all event information can be completely customised by Screenfeed to fit the look-and-feel of a network or to add sponsorship or other branding.
Screenfeed's new Photo Trivia content works in a slightly different way – attracting the attention of viewers and entertaining in both short spots or during long dwell times.
Here, viewers interest is triggered from motion that starts and stops, colour change, as well as high-resolution photos of celebrities, sports heroes and things people will instantly recognise AND the reveal of answers to a variety of pop-culture questions aims to keep viewers' interest. Topics include celebrities, entertainment, sports, historical events and fun facts.
Screenfeed CEO Jeremy Gavin told us "We want to make getting high-quality, constantly refreshed content easier. Our goal is for our customers to schedule our content in their playlists one time and forget about it – We'll keep their screens fresh. Automated updating is currently the case for nearly all our customers and we're working to support all industry standards for content delivery."
He added "It is important for the industry, especially signage software companies to develop the ability to consume daily, third-party content delivery."
Screenfeed offers a number of different delivery options including Media RSS, SMIL, FTP, Flash and Web URL.
In addition, Screenfeed has established tight integration with several major digital signage software solutions – I recall a signagelive announcement but can't instantly recall any others, Ed and continues to increase those relationships with the goal of making it as easy as possible for network operators.
Pricing for both channels is as low as USD 5 per player per month.