Guest Contributor, Damien Edmonds
Pronto Digital Signage Network (PDSN) is at the helm of a new digital signage network in Australian IGA supermarkets, in the process of being rolled out from Q1 2010.
The IGA stores will feature 40-46" digital signage screens (2 to 8 per store), which will have the potential to be seen by 5 million+ grocer shoppers weekly. Custom built computers will have advertisements and content beamed to each strategically placed screen in store, via its 3G Mobile Broadband platform.
Brett Weinberg, Managing Partner of PDSN, spoke with DailyDOH about their project this week, "This digital signage network, involving some 500 IGA supermarkets Australia wide, provides marketers with an alternative audience to the two leading chains of Coles and Woolworths/ Safeway".
IGA's digital rollout will be conducted nationally through VenueMedia, a Sydney based technology company.
Deployment aims to fit 250 stores in Q1 2010, with possibly the same number of stores in Q2. VenueMedia was also responsible for fitting 400 pubs and clubs in 2008 and 2009.
Australia is a market that is already ripe with Retail Media opportunities (see previous story here). In an interview with The Australian back in June, Sir Martin Sorrell bracketed Australia with the fast-rising 'emerging' economies, rather than the hidebound industrial and political systems typified by Western Europe.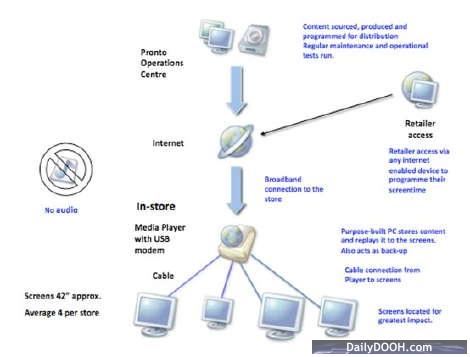 PDSN, who have developed the overall concept and negotiated the 2,000 screen placement with major IGA store owners, is currently in discussions with leading FMCG companies to lock up key advertiser categories. The deal has been five years in the making, due to the stores being individually owned.
The IGA distributors have a clean-store attitude, thus the added impact of the 40" screens. The network employs landscape screens in the same 16:9 ratio as the traditional television screen, which poses a challenge with customer's inability to relax in-store in the same way that they might in front of the television in the comfort of their own home.
Weinberg states "We see in-store digital signage as a frequency medium, and our offer to marketers of a 15 second spot every 10-15 minutes is in keeping with this". PDSN will "accept any advertising creative format, downloaded into a custom box".
The PDSN team members apparently come from a marketing background, which becomes quite evident when we discuss the details behind the web-based software platform that PDSN is working with. "We are not in a position to say who this is at the moment", maintains Weinberg.
Approximately 5% of IGA stores will be two-screen stores, mainly in the smaller format X-Press stores. Only a very few of the larger stores are due for eight screens, as this would tend to be an imposition on the shopper environment.
In-store shopper research (AC Nielsen Asia Pacific Shopper Trends) indicates that 70% of grocer shoppers' purchasing decisions are made in store.
In a move similar to SPAR in the UK, IGA's offering will have significant appeal to marketers because of its ability to influence shoppers' choice of brands.
According to PDSN, IGA has a 20% share of the grocery market, making it a strong third force in the market. PDSN also comments that there is not a great difference behaviourally between shoppers at the three major Australian chains.
The involvement of content is an interesting one, in line with the average IGA customer's dwell time of 30 minutes in-store. PDSN's proposed recipe for the network is a rolling loop ratio involving 50% advertising: 50% content.
A deal with News Limited will provide 80 news stories each day including weather, sport (Australian Rules in the south and Rugby League in the north), traffic, police and fire authorities, plus 4 minutes per hour for the local retailer to promote local specials, via specially designed templates.
"Speed is not a major consideration to our operation as material is downloaded as needed and backed up in a Media Player for replay. We aren't streaming content, and so reliability of the ISP is our major consideration", stated Weinberg.
Another challenge to accepting the traditional video format is the absence of sound with the signage network. "Whilst sound is likely to be 10% of the cost, it poses 90% of the problems", Weinberg comments, "Sound raises an issue of the public licensing of music and there are already radio deals in-store".
One question posed with such ventures is; do such in-store opportunities cannibalise out-of-home revenues or do they simply add another level with a marketer's ability to target a consumer's path to purchase?
"The effectiveness of our medium is measurable at the cash register, not in TARP's, CPM's, readership, as with most other media options. Marketers have supported static cardboard POS in supermarkets for a number of years because it has a positive impact on branding and on sales. Our digital signage offers all this, plus the strategic advantages of immediately updating product, price, and material across the whole network – something that an army of reps couldn't achieve. Consequently, we do see it affecting other media opportunities", said Weinberg.
So, when does the interactivity begin?
"At present, our focus is to provide the basic offering of a digital signage retail network, providing solid footfall Australia-wide", said Weinberg. "Bolt-ons such as SMS, blutooth or other new media are being considered down the track".