Gail Chiasson, North American Editor
We've just received some nice photos of Christie's recently completed three-year tour of the successful 'The Path to World Expo – Introduction to Expo 2010 Shanghai China and the Retrospection of the World Expo History' exhibition in China that we wrote about Jan. 17th.
Since 2007, Christie has been on the road with the popular exhibition to various cities in China and presented memorable visual experiences to thousands of attendees.
There were two main digital displays at the exhibition:
One had 3-channel Christie Roadster S+20K 3-chip DLP digital projectors displaying contents onto a curved screen measuring 13 meters wide by 3.5 meters high…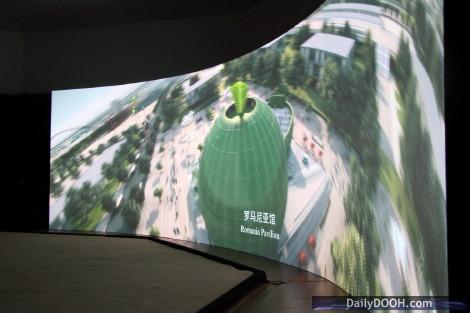 The second was an Interactive Digital Book using a Christie DS+6K-M projector…
With the use of the sensor, users could interact and 'flip' through the
digital book to look through 156-years worth of glorious, world expo history.