Gail Chiasson, North American Editor
CBS Outdoor, on behalf of client Visa, is running what is believed to be the first out-of-home high definition 3D projection advertising campaign.
It's part of Visa's full 'Go World' campaign tied to the 2010 Olympic Games whereby Visa has also taken over New York City's Grand Central Station with wall displays, wrapped columns and other traditional OOH displays. Visa is a Worldwide Olympic Partner of the 2010 Vancouver Olympic and Paralympic Games.
The campaign's creative is by TBWA\Chiat\Day and media by OMD, both out of their Los Angeles offices.
CBS Outdoor teamed up with N4D, Suwanee, Georgia (US), to develop this 3D digital campaign. The centerpiece of the campaign is a 14' screen displaying commercials in 3D. The physiologically correct 3D content created by N4D is a first in digital outdoor advertising and is expected to lead the way for this type of application.
"To bring high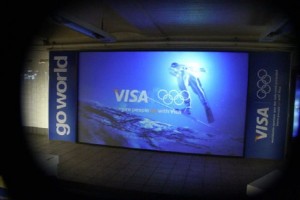 definition 3D content to a high profile location like Grand Central Station, we needed a partner with the experience and resources to meet our clients' needs," says David Lane, vice-president, digital media, for CBS Outdoor. "Our partner N4D created a custom 3D solution that exceeded our expectations and their team overcame every challenge we presented to them. We look forward to a continued expansion of our 3D offering with N4D."
More than 1,000,000 viewers are expected to see the 3D spots, which feature a voice-over performance by Academy Award-winning actor Morgan Freeman. To develop the famous Manhattan terminal's first 3D display, N4D partnered with digital projection experts Christie Digital Systems and Lightspeed Design Inc's DepthQ. Christie is providing a true high definition 3D active stereo projector, the Christie Mirage HD6.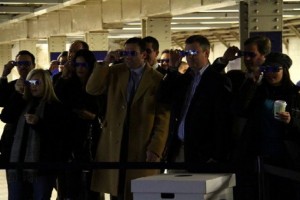 Using state of the art 3D technology and a custom theatre-like environment created exclusively for this campaign, consumers can see 3D commercial spots, with audio. Brand ambassadors (street teams) distribute special 3D glasses to the 70,000 commuters that pass by the display every day. The commuters can keep the glasses for other 3D use in the future.
The 3D commercials are shown daily from 11:30 am to 1:30 pm. while other broadcast commercials are shown at all other times.
"The MTA (Metropolitan Transportation Authority) asked us not to show the 3D commercial at the to-and-from work times, because it was concerned that with so much traffic at rush hours, it could be a safety hazard," says Lane. "So we chose the third-busiest time."
With this, CBS Outdoor is demonstrating how clients can use already produced television advertisements and convert them into a captivating 3D version that brings the commercial to life.
Another first for Grand Central Station is the use of 3D dioramas placed throughout the Shuttle passageway where the projection screen is located. The 3D dioramas appear dimensional to the naked eye, giving the impression one can see around certain elements of the creative.
The campaign, which will run the entire month of February, includes more than 100 pieces of client media pieces throughout the station.
Lane says that the 'Go World' high definition 3D commercial will create a one-of-a-kind brand experience and a show-stopping moment for millions of commuters.
"Working with CBS Outdoor is a tremendous opportunity for N4D," said Clif Parker, CEO of N4D. "Their best-in-class campaigns and willingness to innovate at the leading edge of outdoor advertising are a perfect match for N4D. We look forward to building a strong, long term partnership with CBS Outdoor and together pushing the boundaries of what digital outdoor advertising can become.
"N4D's goal is to change the way the world views information. N4D's 20 years of research offer a new paradigm – 3D for extended daily use. This 3D technology provides CBS Outdoor with a definite edge in the signage industry."
"We see this type of advertising approach becoming very popular with companies looking to reach viewers that have become desensitized to traditional media," says Lance Hilton, N4D president.