Gail Chiasson, North American Editor
San-Francisco-based RMG Networks and The New York Times have announced the launch of 'NYTimes.com Today', a fully-branded NYTimes.com content experience for readers on the move.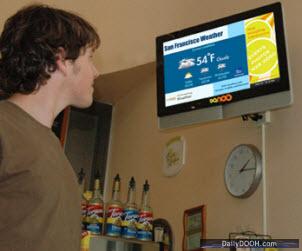 This digital place-based network features the latest news headlines, photos, and a selection of videos exclusively from NYTimes.com.
"Under this arrangement, RMG has transitioned its screens so that content is strictly the N.Y. Times, plus advertising – the latter handled by RMG," says Donna Boyer, general manager of the NYTimes.com Today network for RMG Networks. "The content is updated every minute."

The network is displayed on video screens in over 800 business district cafés and eateries in the New York, Los Angeles, Chicago, Boston, and San Francisco markets. RMG's existing digital place-based network (formerly known as 'Danoo') has been entirely re-envisioned to emulate the familiar, trusted design of NYTimes.com.
"The N.Y. Times is interested in other regions, specifically Philadelphia, Seattle and Atlanta, as well as expansion in the Chicago and Boston areas, so this will help RMG grow in these areas as well," says Boyer.
While the articles on the screens are encapsulated versions of the full articles, to optimize the content experience, viewers can go to www.NYT2day.com on their mobile devices to receive a direct link to the NYTimes.com Today mobile site, featuring the full articles displayed on the screens.
"RMG's strategy is to offer best-in-class video entertainment and information to engage high-value audiences when they are on-the-go," says Garry McGuire, CEO of RMG Networks. "This agreement represents a game-changing offering within both the place-based media sector and the broader ad industry. Every month, the NYTimes.com Today network will connect 6 million mobile professionals with NYTimes.com content, allowing The New York Times brand to further integrate into their daily experience."
"This platform is a great opportunity to expose our brand to new audiences in a medium that is quickly expanding," says Murray Gaylord, vice president marketing, NYTimes.com and Customer Insight, The New York Times Media Group. "We also believe this is an innovative way to extend The Times's brand to its large audience of business professionals in our key markets."
The IP-based network offers hyper-flexible messaging and targeting capabilities, and management believes it will be the first digital place-based network to readily accept the IAB-standard 'Rectangle' dynamic ad unit shape, allowing advertisers and agencies to effortlessly extend the reach and effectiveness of existing interactive media campaigns and creative assets.
RMG Networks will continue to manage operations as well as advertising sales efforts for the network.