Adrian J Cotterill, Editor-in-Chief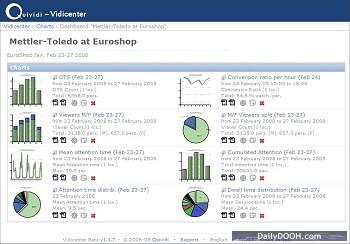 Quividi have just announced a partnership with Mettler-Toledo in the release of a commercial retail scale that is also an advertising medium (via its screen) and of course with Quividi integrated also, it does its own automated audience measurement!
This is a particularly interesting announcement as there is obviously a good business rationale for embedding audience measurement within devices and we think we'll be seeing more and more "AM equipped" (i.e. camera + software) devices.
As we have said before with the likes of EPOS vendors, there will be a big number of new Digital Signage players as folks with an installed base of things like scales, EPOS systems, vending machines etc enter the marketplace.