Gail Chiasson, North American Editor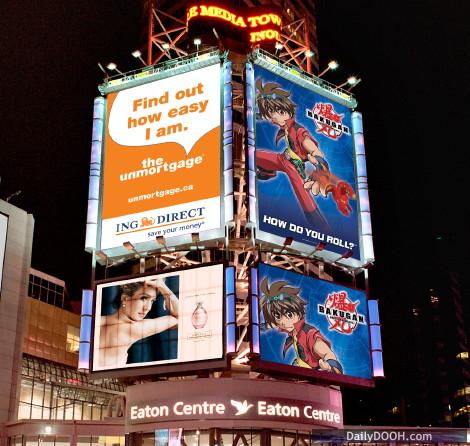 Oh, boy, OBN is certainly busy in Toronto these days: Latest advertiser on OBN's TEC Media Tower is Spin Master Ltd.'s Bakugan action game – one of the hottest toys in North America.
We got a quick peak at the creative even though the campaign officially doesn't start running until July 21.
Bakugan Battle Brawlers is a game of skill and strategy that involves collectable plastic balls that pop open into battle monsters when rolled across magnetic trading cards. It's a hot item from Toronto-based Spin Master, a children's entertainment company that has been designing, developing, manufacturing and marketing consumer products for children around the world since 1994 and is recognized as a global growth leader within the toy industry.
The 6-week campaign includes both components on the right side of OBN's Toronto Eaton Centre Media Tower for a total of 3,600 sq. ft. of advertising space. The 60′ x 40′ high Trivision billboard will feature multiple messages depicting Dan, the main character in Bakugan, and the other Bakugan characters with the tagline, "How do you roll?" Directly below the Trivision is a 30 x 40 foot video board which will be fully synchronized with the Trivision to air elements promoting Bakugan and its companion hit animated TV series on Teletoon network.
Spin Master handled the creative and the media buy directly with OBN.
"The campaign is an example of how OBN offers advertisers an opportunity to use one of several combinations of the media structure's components for shorter term campaigns," says Peter Irwin, OBN president.