This report is a must read for anyone who is interested in the Japan market – it is also completely in Japanese!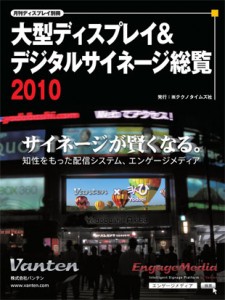 "Massive Display and Digital Signage 2010" edition, a comprehensive industry overview with profiles of all the key players.
This yearbook was initially launched when Japan led the world in outdoor LED screen technology and Sci fi movies like Blade Runner prophesied a cityscape rife with large scale OOH deployments.
Since then Massive Display has become the Bible for anyone involved in OOH Video and now OOH Digital advertising. Until recently, the coffee table sized volume has been called 'Massive Display 20xx' with no mention of Digital Signage.
Now with new deployments and plenty of buzz surrounding Digital Signage, the title has been expanded. Fully half of the 222 page report covers digital signage!
The volume runs the gambit with everything from database run deployments by Vanten to massive OOH screen rollouts by Panasonic. Packed with detail, 'Massive Display and Digital Signage 2010' is for anyone serious about the Japan market, only problem is you better know Japanese or have a good translator.
Anyone interested in purchasing a copy and/or getting chapters translated can get in touch with the author of this article. The book retails for $120 and targets industry insiders.